Long-form formal submission supporting coastal trail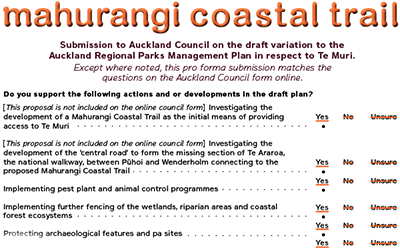 Auckland Council has provided an online form that short-changes the Mahurangi Coastal Trail.
While it allows submitters to respond to the primary actions and developments contemplated in the draft variation to the Auckland Regional Park management plan, the Mahurangi Coastal Trail is not listed, except in respect to Pūhoi River and Te Muri Stream pedestrian crossings.
Accordingly, the Mahurangi Magazine here attempts to level the playing field by reproducing the council's form with the addition of proposals in respect to the Mahurangi Coastal Trail and Te Araroa, the national walkway. Also, the form contains pro forma text that supporters can use, modify or replace. While it is always great if submitters make the time to write individual statements, people tend to lead busy lives and presumably the three commissioners appointed to consider submissions appreciate that fact.
Meantime, rather than wade through the mass of no-brainer proposals included on the council form, readers with a life will prefer the Mahurangi Magazine quickfire submission supporting the Mahurangi Coastal Trail.