for

Parks

Te Muri

walk-in open day single-issue issue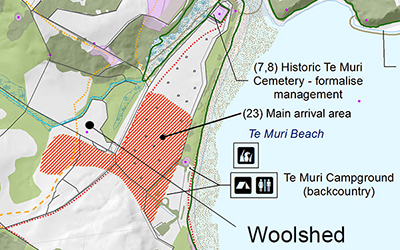 Because of the urgency and importance of the upcoming Te Muri open day, we are breaking with our usual practice and making this a one-issue issue.
There is, however, much going on in the regional parks, particularly during Seaweek Saturday 27 February to Sunday 6 March, and more information on FORParks is available on our website.
Auckland Council is currently seeking formal feedback on its draft Auckland Regional Parks management plan variation in respect to Te Muri.
A walk-in open day will be held at Te Muri, in the woolshed, on Saturday 20 February, to provide an onsite opportunity to speak to council officers about the draft plan. From this morning, a detailed invitation is available on the Shape Auckland website.
Aside from Te Muri—'Auckland's New Chums'—always being a joy to visit, this is an excellent opportunity to demonstrate support for the Mahurangi Coastal Trail concept that is currently Friends of Regional Parks flagship project.
Also present will be representatives of Mahurangi Action, the organisation that 29 years ago convinced the Auckland Regional Authority's citizens advisory group, chaired by Judge Arnold Turner, that Te Muri should be developed for walking access only. Mahurangi Action and Friends of Regional Parks have recently formed the Mahurangi Coastal Trail Trust to progress the project. Pro forma submissions will be available—identical to the 77 that were lodged at the Mahurangi Regatta on Auckland Anniversary weekend.
The draft variation strongly prioritises vehicle access. The pro forma submission pleads for initial access to be provided by the proposed Mahurangi Coastal Trail, and at a fifth of the estimated cost of upgrading the 5.4-kilometre Hungry Creek Road and farm roads that, left as they are, would nicely provide most of the missing Puhoi–Wenderholm section of Te Araroa, the national walkway.
On 20 February, underlining the need for the Mahurangi Coastal Trail, to reach Te Muri necessitates driving to the end of Ngārewa Drive—190 Ngārewa Drive, if you are navigating by GPS—at Mahurangi West, and walking in from the north—whereas it's potentially a hop, step and jump from Wenderholm, or from the bus at Waiwera.
For those unable to attend on Saturday 20 February, the Mahurangi Magazine has a quick-fire online submission, and a long-form version similar to the hardcopy pro forma, which is also available as a PDF.
For further information, go to www.mahurangi.org.nz or phone committee member and Mahurangi Action secretary Cimino Cole on +64 9 422 0872
I hope many of you can make it to Te Muri on Saturday 20 February.