Short-handed shuttle and last Scotts ferry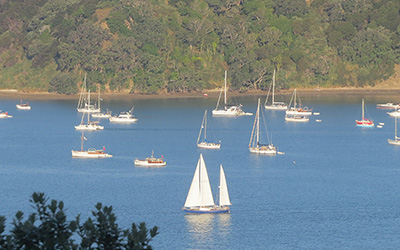 As regular readers of the Mahurangi Magazine well know, this writer won't be content until a cross-harbour ferry is instituted.
This would benefit locals, Mahurangi Coastal Trail walkers, and be an absolute boon and delight generally, but particularly during the Mahurangi Regatta.
Last year the waters were tested with the services of the Shuckle Ferry, and this year a different, ex-Mahurangi Technical Institute vessel, commences earlier, beginning at 9.30 am. That is the good news, but vessel to be used, it has just been realised, is not certified to operate after dark. However, as luck would have it, the free regatta shuttlebus that operates from 'midday to midnight' at Scotts Landing, was due to return, otherwise empty, to Mahurangi West, so any ferry passengers who find themselves compelled to dance into the night, came return home the long way, with its astonishing sight, from Mahurangi West ridge road, of the harbour brimming, shore-to-shore, with a thousand riding lights.
The final ferry schedule is yet to be determined, but this brief article will be updated when it has been:
9.30–11.30 

am

Free ferry operates between Scotts Landing wharf and northern end of Sullivans Bay

Contact Jim Dollimore on +6421812238 or Cimino Cole on +64274624872

2–4 

pm

Free ferry operates between the northern end of Sullivans Bay and Scotts Landing wharf

Contact Jim Dollimore on +6421812238 or Cimino Cole on +64274624872
While waiting for that to happen, those interested in availing themselves of either service are encouraged to join the text list to receive updates: +64274624872
Meantime, Mahurangi West resident Lex Marshall has kindly volunteered for the late afternoon – early evening shift as shuttlebus driver—a contemporary demonstration of Mahurangi's legendary hospitality.
Buon regatta!