$9 million Mahurangi action plan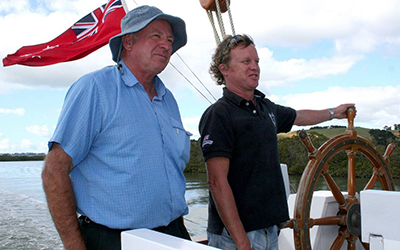 $3 million over 5 years seemed, for a moment there in 2004, as though all the Mahurangi Harbour's Christmases had come at once. Even in today's money, $9.06 million is more than twice that amount, but nor, as in 2004, does it mean that the Mahurangi's sediment woes are over.
What is different, is that the $4.06 million for the Mahurangi River dredging, in addition to its environmental benefit, is enormously strategic economically, and it is community led. In 2004, in contrast, the $3 million, 5-year riparian-margin protection kickstart was an action plan imposed. Welcome as the riparian protection funding was, the Auckland Regional Council proved to be strongly resistant to Mahurangi River dredging being in the same marquee. As recently as during the Mahurangi Action Plan's 10 anniversary celebrations, Peter Thompson was discouraged from advocating for restoring the navigability to the Mahurangi tidehead town of Warkworth.
The irony could not have been crueller. The anniversary celebrants were being conveyed past oyster farms, some of which, and parts of some, were so badly derelict—and had become so, on the regional council's watch—that dredging was, and still is, the only solution. But further, the vessel used, the scow Jane Gifford, had only been saved, and returned to her home port, by the colossal industry of Peter Thompson. And finally, the viability of the historic scow's return to Warkworth was rapidly diminishing due to acceleration of the river's already elevated sediment accumulation rate. This was reducing the Jane Gifford's operating window from the tidehead town, to a shorter and shorter period of the tide.
The community, earlier, had stuck to its guns, and dredging was already a line item in the Mahurangi Action Plan: A Catchment Plan 2010–2030 , albeit couched as restoring the navigability of the Mahurangi River. Generally, the community had succeeded in convincing the Auckland regional and Rodney district councils that the 2010–2030 should be, at core, holistic. It may be the good things take time, but the near-inhuman perseverance all too often required results in the proponents being so worn down, physiologically, psychologically, and financially, that worthy projects fail to come to fruition. That was almost the fate of the Mahurangi River Restoration Trust's vision. That it was not, is due to the current need for shovel-ready, covid-19-recovery projects. That government can be distributing recovery largess during the worst pandemic in a century, of course, is only possible because of its crucial role in achieving the covid-19-free environment that prevails in Aotearoa.
The same covid-19-free environment and need for recovery projects has permitted work to restart on Mahurangi Harbour sediment generation mitigation. However, the $5 million for the 2020–2023 land restoration programme, applies, as it should, to the broader Mahurangi region:
Expand and connect current pest suppression and restoration activities by Auckland Council, Department of Conservation and community groups from Matakana to Warkworth, South to Hatfield's Beach, Sandspit Peninsula, Mahurangi catchment and several regional parks.
The funding possibly has a significant pest suppression emphasis, in contrast to the 2004 riparian-margin-fencing-and-planting-focused $3 million. Pest suppression, however, is an often-neglected aspect of indigenous vegetation restoration. Exotic pests, famously rabbits, can devastate many indigenous species, expensively purchased and laboriously planted, overnight.
With the $9 million boost for the Mahurangi region, comes an opportunity for the Mahurangi community to begin building an enduring post-2010-amalgamation framework. Much energy was been squandered in serial attempts to secede from Auckland Council, which were unrealistic and doomed from the outset. Regardless of the wisdom of the one-council solution imposed by the cloth-eared Royal Commission on Auckland Governance, the wider Auckland region was clearly in need of more cohesive planning than the five city, two district, one regional council model was delivering. The Mahurangi Magazine proposes that the Mahurangi community holds the solution to Mahurangi governance deficiencies in its own hands. It has a meeting place, the Warkworth Town Hall, magnificently restored, and, incidentally, largely at Auckland Council expense. A monthly Mahurangi 'council', where the community discussed and agreed projects and priorities, would ultimately make life much easier for Auckland Council and its Mahurangi governance partner, Ngāti Manuhiri.
Easier, that is, for those whose ethos is democratic. Power is addictive, and administrations such as local councils, much less those of Auckland-region scale, can be resistant to the legitimate participatory aspirations of their citizens. Success of the endeavour, would turn on how readily citizens embraced the opportunity to be a blessing to Auckland Council, rather than a curse, and, in particular, how willing the community was to work with its council, rather than remain at a safe, insult-lobbing remove, or worse. The challenge would be to attract a sufficiently eloquent and charismatic person to lead the Mahurangi community council. Given the tribulations, particularly of New Zealand's National party, political leadership, at national or local level, struggles to attract wholesome candidates, much less candidates who are eloquent and charismatic.
The latest 1 News – Colmar Brunton poll has Prime Minister Jacinda Ardern enjoying a 64-percentage-point net trust advantage over National's leader-of-last-resort, Judith Collins. Collins' net trust polling drubbing compares poorly with the 14 percentage-point "More honest and trustworthy" lead Joe Biden holds over Donald Trump, but as a class, politicians are ill-trusted. Prior to covid-19, the honesty and ethical standards of members of congress were rated very high or high by only 12% of Americans polled, only beaten to the bottom of the barrel by car salespeople, at 9%. Americans trusted chiropractors, at 41%, over journalists by 13 percentage points, but that is a whole other evidence-challenged rabbit hole. Meantime, just to hand are the results of Research New Zealand's polling showing trust in national and local-body politicians at 22%, nearly twice that which members of congress enjoy. What is surprising though is the slender, 1 percentage-point, margin that journalists have, in Aotearoa. In the United States, that margin is 14 percentage points, and in Germany, 28% of respondents trust journalists "a lot", 12 percentage points more than they trust their federal government.
Donald Trump could succeed in his current efforts to sabotage the 3 November election, with or without foreign assistance, including by his move to knobble the postal service. Then, he could set aside its results, and suspend what masquerades as democracy in the United States entirely. Against a backdrop of a people so disillusioned by democracy, the slide into martial law could be conceivably be complete and become entrenched. A phony war with China is being prosecuted to provide the textbook external threat.
This yet-to-be notified nascent article—$9 Million Mahurangi Action Plan—is a million miles from notification; please bear with…