Rare and heroic inclusion in charity art exhibition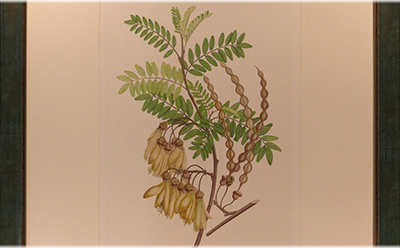 Prints from Alecto Historical Editions Banks' Florilegium are rare for a reason. The never-used engraved copper plates from which they were printed had lain, effectively forgotten, for 200 years before being resurrected by a printery established in the late 1950s by Cambridge and Oxford students.
The mission of producing the 743-plate, 116-copy edition was, indubitably, as heroic as the 1768–71 botanical endeavours of Sir Joseph Banks, Sydney Parkinson, and Dr Daniel Solander—Captain James Cook's first circumnavigation. J Barry Ferguson met one of the principal actors involved and contributed to the London launch of the florilegium, with floral arrangements befitting the majesty of the occasion.
Plate 430, Sophora tetraptera, kōwhai, on a Friday evening—hopefully on the first Friday that CoViD-19 alert levels permit—as published Tuesday 17 August 2021: on Friday eveningwill carry a silent-auction minimum bid of $2000. Before it sold out, it was available from Alecto Historical Editions amongst prints priced at £425—say $850 nzd—but factor in its out-of-stock rarity, its archival framing, its having been already shipped, its being made available in the town that long promoted its self as the Kōwhai Coast, and that it is philanthropy, on the part of both vendor and vendee, for the best of Mahurangi causes…
This article is an early work in progress; please bear with…