Pursuing perfect spot-prize picnic spot for the 2022 Mahurangi Regatta
author Cimino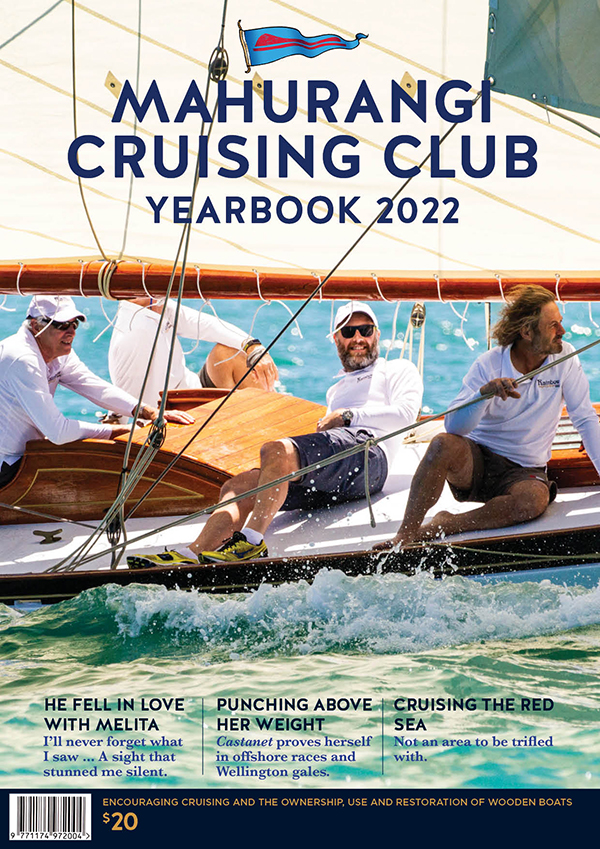 T
ungutu Point, indubitably, provides the ultimate Mahurangi Regatta viewing platform.
Come 29 January, however, unless camped out there at sunrise—which normally comes extremely highly recommended—the chances of finding a picnic space providing adequate physical distancing will be slim.
As with any Auckland Anniversary-weekend Saturday, the weather dictates the critical difference between another halcyon Mahurangi picnic regatta, and a damp squib—or even a wash-out ex-tropical cyclone, as in 2011 courtesy of Wilma. Indeed, the prognosis for this summer's weather includes an ex-tropical cyclone or two. Even short of the almost direct hit scored by Wilma, a high rainfall event has the potential to severely disrupt the Mahurangi Regatta. For example, rather than just part of Ngārewa Drive being taken out by a slip, there are multiple increasingly vulnerable points along the Mahurangi West scenic ridge road, thanks to an inexorably heating climate, where it could be severed for days or weeks.
While Tungutu Point provides the most panoramic—almost aerial—regatta vantage, the harbour-facing hillsides of the Mahurangi Regional Park provide innumerable picnic sites with views of the sailing, ranging from vignettes to expansive vistas. Determined Mahurangi Regatta-goers will no doubt redouble their efforts to secure their favourite picnic site. However, those returning to favoured beachside haunts will almost certainly find their bubbles in constant danger of being burst. Post covid-19 alert-level 3.1, Sullivans Bay has experienced unprecedented visitor numbers80 000 per year, before this CoViD-19 surge. The last Friday of the school holidays saw the beginning of roadside parking, such was the volume of traffic entering the park. On a subsequent weekend, the park roadway was reduced to one, severely constricted lane. If the end-of-January Auckland Anniversary weekend enjoys fine weather, Mahurangi Regatta-goers will likely considerably exceed the car-parking capacity of Sullivans Bay.
For most of the first four decades following its revival by Mahurangi Actionestablished 1974 as Friends of the Mahurangi, most folk who descended on Sullivans Bay, on the day, were there for the Mahurangi Regatta. Increasingly though, because of its now enormous popularity, Sullivans Bay, on any half-decent summer Saturday, is at capacity, or close to it. Or rather, its car-parking areas are. Since their 1960s inception, the Auckland Regional Parks have been heavily private-light-vehicle-centric. For most regional parks visitors, this has provided ultimate comfort and convenience. Some even arrive towing trailers dedicated to the transportation of every last accoutrement to beach life. This, regular visitorship, swelled by thousands of inveterate Mahurangi Regatta-goers, is the epitome of a regional park at over capacity.
Delayed even before covid-19, the draft Regional Parks Management Plan is currently scheduled for release on 10 December, with an extra three weeks of review time thrown in, in recognition of challenges faced by community organisations in responding to local government processes during the summer holidays. For the first time, the 10-year regional parks management plan is specifically tasked with responding to the climate emergency. So far, it is unclear as to whether the need to radically rethink access to regional parkland by other than private-light-vehicle is remotely adequately addressed by the plan. Be that as it may, the Mahurangi Regatta provides the perfect opportunity to test some options. Or would have, if it wasn't for the scourge of the sarscov-2 virus, in its increasingly infectious variants. In an ideal response to pandemic—potential or declared—access to regional parkland would be optimised, for the physical and psychological wellbeing of citizens. While some cities have national parks nearby, New Zealand's metropolis doesn't, but is arguably better provided with access to natural space, by its network of regional parks.
When the regional parks were conceived, predicating their access on the family car was not unreasonable—in the 1950s, the automobile and networks of motorways was the largely uncontentious future. Auckland's Rubicon was crossed with a four, soon-to-be-six-lane harbour bridge, sans dedicated transit lanes or tracks. However, that rail would be written out of the script, in the 1940s, was not a forgone conclusion. The government's transport engineers proposed a balance of rail and road for Tāmaki Makaurau, to cross its sparklingDespite the widespread misapprehension that the matā of Waitematā means 'sparkling', during colinisation, the harbour took its name from Boat Rock, known to Māori as Te Matā: The (obsidian) rock. Waitematā Harbour. Instead, mad-for-motorways conspirators imposed the Master Transportation Plan for Metropolitan Auckland, condemning the isthmus to chronic transportation constipation for the worse part of the next century.
covid-19 is delivering humanity a master class in the perils of procrastination, not that the class, to date, is proving to be remotely attentive to the lesson. The grossly self-defeating hogging by developed countries of vaccines, so heroically developed and tested, imagining that leaving the virus to repeatedly devastate, and mutate in, poorer populations was remotely sustainable, is just one more predictably sorry demonstration of international dysfunctionality. It both ill behoves, and patently ill-serves, developed countries to drag their feet and lag so far behind China in the supply of vaccines to the Global South.which of course includes China Omicron is demonstrating the futility and paucity of duty in delaying pandemic preparedness until post covid-19: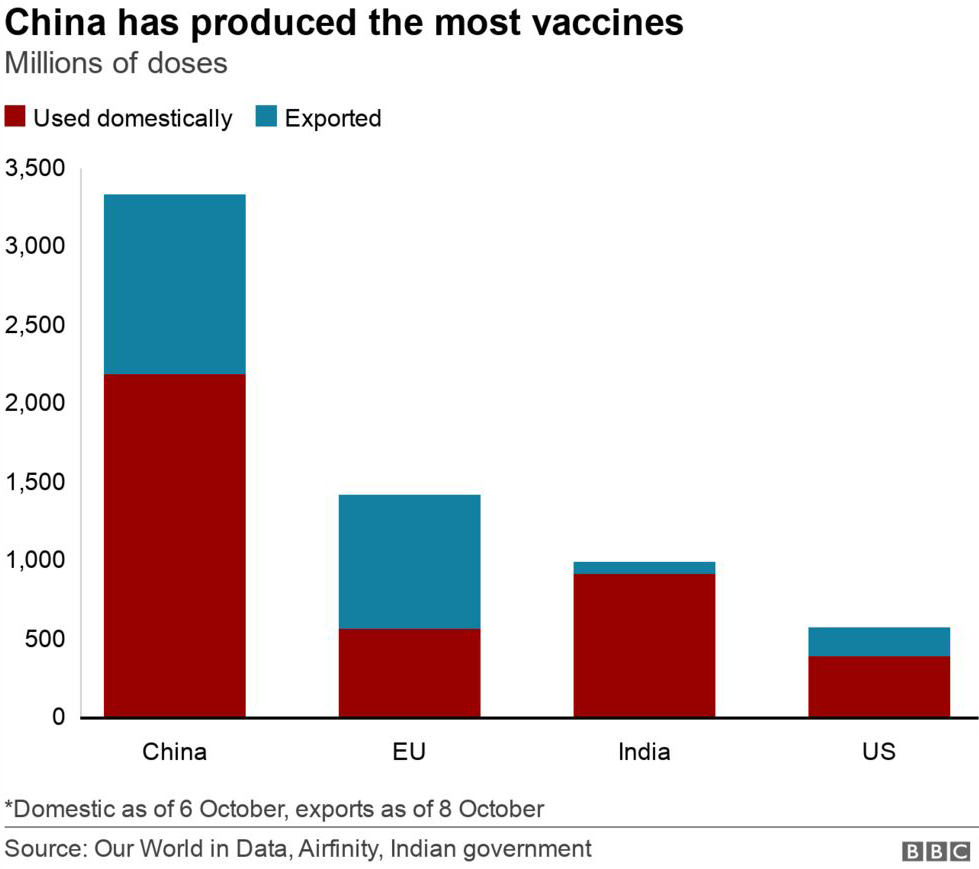 Omicron demonstrates just why the world needs a new accord on pandemics: our current system disincentivizes countries from alerting others to threats that will inevitably land on their shores … although many of us might think we are done with

c

o

v

i

d

-19, it is not done with us.
Verily, any country that discovers a novel virus or bacteria, or variant of, in its midst, should be immediately provided with a quantum of coordinated, wraparound care—care, such as that which a region laid waste by a magnitude-9 earthquake would expect. Given the business-as-usual response could be costing global gdp $3 trillion annually, a country sufficiently vigilant to alert the who to a potential viral or bacterial threat, should have such largess lavished upon it that it doesn't need to wait for the world to close its borders to it, but promptly, pre-emptively, closes its own—setting aside the existential need to sharply curtail air travel, generally. The choice for Aotearoa should never have been the binary one, between lockdown and callously attempted herd immunity. The choices should have been—given the who peremptorily insisted the world's barn doors be kept open to permit herds of horses to bolt—between lockdown and purpose-built quarantine facilities, and every fit-for-purpose testing thing that goes with robust border protection.
As Aotearoa discovered between its lockdowns, the perfect way to weather a pandemic is to be collectively isolated from it. At every opportunity, Aucklanders repaired to their favourite regional park in droves. Mahurangi Regional Park, in addition to picnickers and campers, was visited by an unprecedently large number of sail and motor yachts, the owners of which would presumably been holidaying elsewhere, had access to their usual international holiday haunts been available. Given the measurably therapeutic value of open spaces, access to regional parkland, for the balance of this pandemic, should be urgently optimised. Priority, for example, should be given to the provision of dedicated public transport, for the tested, vaccinated, and contact-traceable. Even in the absence of pandemic-strength infections, it is perverse in the extreme to allocate the prime, gentle, perfect-for-picnicking regional parkland for the parking of private-light-vehicles. At Sullivans Bay, this would free up more than a hectare of flat to gently sloping ground. Be that as it may, the better regatta-viewing picnic sites are on the more elevated ground, unused for vehicle parking.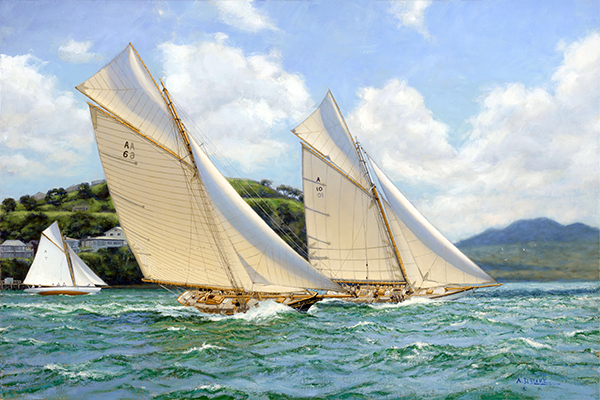 This, reimagining of how the Mahurangi Regional Park is used during the regatta, and the balance of Auckland Anniversary weekend, had been presented to Auckland Council pre-pandemic, during the regional parks management plan variation process to accommodate the new Te Muri parkland. The probability of persistent covid-19 community spread, regardless of how well or disastrously the region fares during the summer holidays, recommends that every encouragement be given to the thousands attracted by the regatta, to other than crowd onto the half-hectare of ground customarily used for picnicking. The suggestion has been embraced. What is, potentially, within the purview of Mahurangi Regatta organisers to further initiate, is an ongoing programme to incentivise the more distributed use of the vast, natural regatta-viewing amphitheatre. In 2022, this could involve trialling the spot-prize concept originally proposed by principal regatta sponsor Teak Construction as a way of enticing regatta goers to make a small donation towards the costs of holding the shoreside events.
Aside from pre-regatta publicity, the perfect-spot-prize-picnic-spot competition could be advertised at the entrance to the Mahurangi Regional Park, West. Those interested could uplift a  167 x 297 mm print of the hmss Buffalo off Spar Station Cove, in the reasonable expectation that the recipient would subsequently remit $25, to be in the spot-prize money.
Meanwhile, assuming that the draft regional parks management plan is notified this monthconfirmed in the minutes of the 2 December 2021 Parks, Arts, Community and Events Committee: 10 December and open for submissions until 4 March 2022, some of the considerable time not spent by the community holding the cancelled regatta shoreside events will be channelled into ensuring that the plan is fit for purpose to address the next 10 years of global pandemic and heating. The draft plan—presumably approved by Auckland Council on Thursday—acknowledges the need for managed retreat at Wenderholm, but the language used at Te Muri, Sullivans Bay and Scotts Landing is littered with sea-level-rise if s not when s. Otherwise, the draft plan, displaying undiminished determination to provide vehicle access via Hungry Creek Road, is a deeply disappointing fail regarding other-than private-light-vehicle access to the regional parks of Tāmaki Makaurau.
One splendidly busy summer coming up, for those who see the Mahurangi Coastal Trail as a heroic, climate-action mobilisation, legacy project.
Disclosure The author of this article is the secretary of both Mahurangi Action Incorporated and the Mahurangi Coastal Trail Trust, and has voted Māori, more than once. The article published here, however, is that of the editorially independent, independently funded Mahurangi Magazine.
Dedicated to the democratic mobilisation of meaningful Mahurangi climate action.
Copyright ©2021 Mahurangi Magazine. All rights reserved.