Giselles and Gabrielles of their grandchildren
author Cimino
published 20230223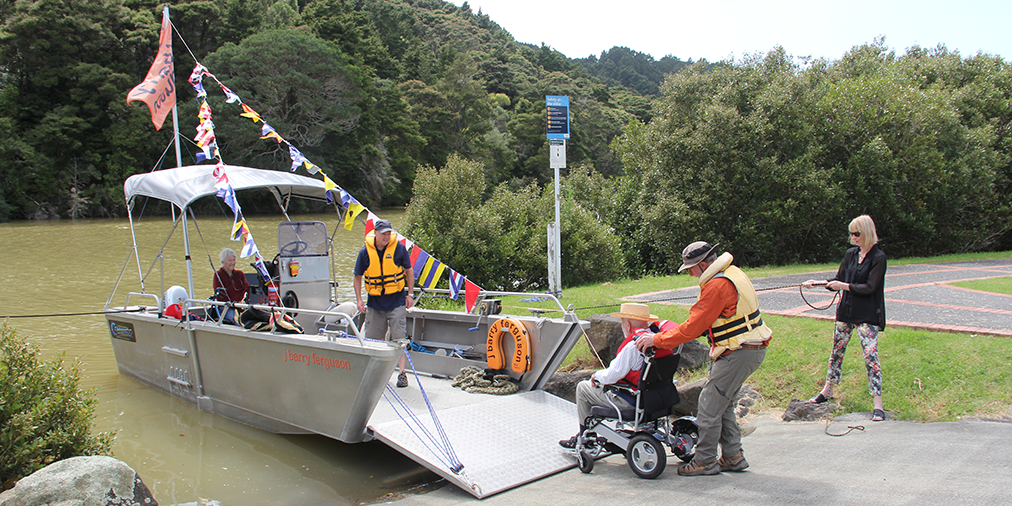 Day Before Gabrielle Felt: After the atmospheric river robbed the J Barry Ferguson  of its Mahurangi Regatta debut, the exquisitely appropriate consolation was for her inaugural, post-outfitting outing to be her patron Barry Ferguson's 92nd birthday Mahurangi River picnic. The calm here belies the imminence of Cyclone Gabrielle, the attendant winds of which precluded immediately returning the six-metre aluminium landing barge to Mahurangi West for retrieval ashore there. At short notice, Quayside Boatyard had kindly agreed to retrieve the vessel at their Wilson Cement Works ramp. Right, Barry's niece, Gabrielle! photographer Maree Owston-Doyle
That, in modern meteorological history, Aotearoa has never been hit by a tropical cyclone, is no fluke. The clue, of course, is "tropical". Not that a tropical cyclone can't survive beyond the tropics, or even beyond the subtopics—Gabrielle was in the subtropics within a couple of days of being named, and it would prove to be another four before reaching its deadliest, at nearly latitude 40°s.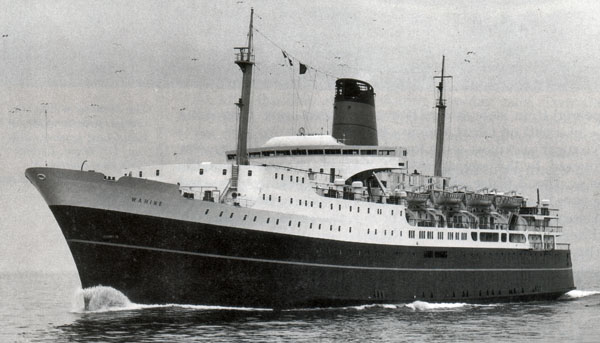 Echo of 10 April 1968: Hawke's Bay Regional Council protestations that immediately followed Gabrielle are eerily reminiscent of the British Broadcasting Corporation, 11 April 1968: "When the [tevturbo-electric vessel Wahine] left Lyttelton Harbour on New Zealand's South Island at 2040hrs last night weather conditions were good. Although there had been weather warnings there had been no indication that the storms would be so severe." Cyclone Giselle, in fact, was so massive it has likely only just been exceeded—by Gabrielle. image Maritime Radio
Outside the arcane sphere of meteorology, it can be far from easy to follow the evolution of a specific killer storm. Tropical cyclones, once they cease to be principally tropically-warm-water-powered, may morph into different beasts, such as the cyclone that sank the tev Wahine—as she strove to leave the far-from-tropical waters of Cook Strait, on her improvident sailing from Lyttelton on 9 April 1968. Cyclone Giselle traversed more than 36°of latitude~4000 kilometres on its already maritimely disruptive path to becoming New Zealand's then biggest recorded storm, claiming 53 lives in its worst modern maritime disaster.
It is chastening to reflect that it took until mid-World War II for tropical cyclones to be consistently named—precipitated by the loss of thousands of United States naval personnel to multiple tropical cyclones, just one of which, 1944's Typhoon Cobra, claimed three destroyers and 790 lives. Cobra was also known as Halsey's Typhoon, for Admiral William 'Bull' Halsey, not entirely due to the storm predating the naming role of the resultant United States' Joint Typhoon Warning Centerwhich put its oar in on Cyclone Gabrielle, but not to name it.
Severe tropical cyclone GabrielleAlthough rendered frequently as Severe Tropical Cyclone Gabrielle—all title case—it appears more probable that, formally, only the cyclone's proper name, Cyclone Gabrielle, should be title-cased. was well within Tropical Cyclone Region xi, the domain of Australia's meteorological service, when it was named. Passing into Tropical Cyclone Region xiii, briefly via Fiji's Tropical Cyclone Region xii, New Zealand's MetServiceMeteorological Service of New Zealand Limited, styled MetService – Te Ratonga Tirorangi promptly reclassified the storm as a Category 2 tropical cyclone, then as a deep subtropical low. That these reclassifications were reported as, and are recorded, respectively, as a downgrade and a weakening, is arguably less than helpful in communicating the destructive potential of the cyclone. The terminology "downgraded to" and "weakened into" may be meteorologically correct, but this metamorphosis does not necessarily confer a diminution of storm power—subtropical low  it may have been, but a low in this context is  a cyclone. Tropical cyclone categories are rigidly affixed to the Saffir–Simpson Hurricanehurricane and typhoon are simply regional names for tropical cyclone Wind Scale, in widespread use since 1974. Wind-strength is an understandable preoccupation of structural engineers, charged with engineering buildings to withstand it. But failure to account for size, water-vapor volume, and storm-surge potential, was always problematic, and in an increasingly anthropogenically heated world, the omission is beginning to resemble systemic negligence.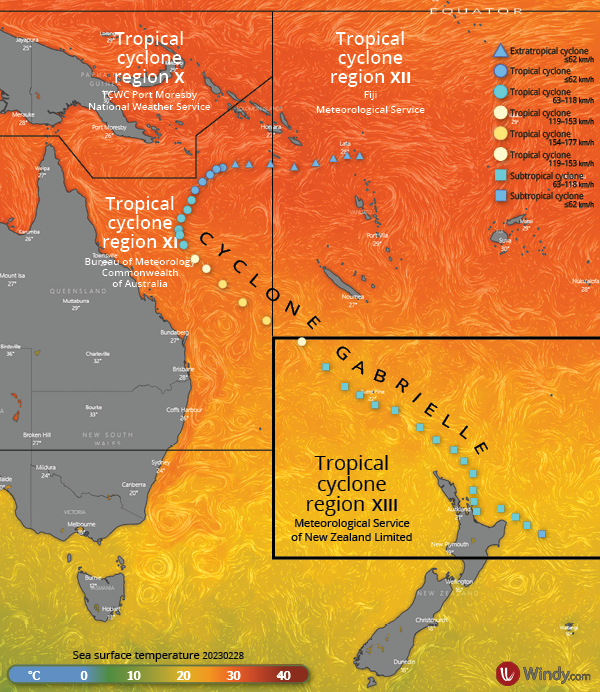 Naming Gabrielle and Gabrielles of their Grandchildren: While Australia and Fiji will long name the bulk of the tropical cyclones impacting Aotearoa, with average surface temperatures near the 25°s northern MetService demarcation already at the ~26.5°c needed to fuel them, New Zealanders will get to name a smattering of their own. sea surface temperature map Windy
tropical cyclone track Meow | Wikipedia: WikiProject Tropical cyclones/Tracks
cyclone tracking data National Oceanic and Atmospheric Administration
design Mahurangi Magazine
Prior to her election  as prime minister, Jacinda Ardern talked the big nuclear-free-moment on child poverty and housing. Prior to what he hopes will be his, Prime Minister Chris Hipkins talked "bread-and-butter". Ardern got covid-19, Hipkins got an atmospheric river of grief, and Gabrielle. Had she walked the talkor was it a case of: Had her caucus not prevented her from walking the talk?, Ardern could readily have addressed child-poverty, the affordable-decent-housing deficit, and  covid-19, and  in one fell swoop: manufactured housing, utilising planted-forest timber, sourced from responsibly harvested forests.
Hipkins has been presented with the  once-in-a-lifetime opportunity to redeem his party for its parade of unrepentant neoliberals—from Lange to the present day—by transforming New Zealand's epic climate-action fail and tragedy into an economic-and-humanitarian climate-action triumph. Labour could begin  to atone for its four decades of reading the room, rather than leading the room. With the storm-force national-emergency tailwind behind it, and National's Luxon pivoting from tax-cut promises to no-new-taxes piety, the 14 October election is suddenly Labour's to lose. Instead, in the awful aftermath of Gabrielle, Hipkins is hinting at the all-too-familiar pattern of parties worldwide losing elections for the wrong reasons, which certainly predates Albert A Gore Jr's 2000 loss to the junior George Bush. Gore, however, was the first to losetechnically was stolen, but only by the tiniest margin. That dumb-and-dumber Dudya level-pegged with Mr Inconvenient Truth was a loss in anybody's language an election while cravenly downplaying the imperative for immediate, meaningful climate action—even Bill The Economy, Stupidas per the original on-message phrase coined by James Carville Clinton's hurricane-force charisma-vortex failed to confer a measurable majority.
Meanwhile, back in the Mahurangi, it could be tempting to say nothing about climate—much less about the Mahurangi Coastal Path or the regatta—lest it be seen as unseemly and opportunistic. Mahurangi, mercifully, saw little of the rooftop rescues and desperate scenes widespread in Hawke's Bay. The plight of Pūhoi, where the general store beating-heart of the village has been deeply inundated thrice in three weeks epitomises the fragility of heartachingly cherished, irreplaceable landmarks. The height that floodwater reached in the village is somewhat counterintuitive, given how appreciably the valley soon widens, into the Pūhoi Estuary. Once it reaches the state highway, the current  road bridge, at least, presents less of a potential dam to the floodwater and its debris than the lower, concrete-sided one—whose span could often be significantly lower than head height for vesselsfamously, purloined oyster barges bringing Mahurangi locals to the Pūhoi Show at high tidefamously, purloined oyster barges bringing Mahurangi locals to the Pūhoi Show. Immediately downstream of the highway, however, the Pūhoi is boosted by the contents of Hungry Creek—a significant subcatchment, and one now supercharged by six kilometres of motorway paving, not to mention monument to embodied carbon.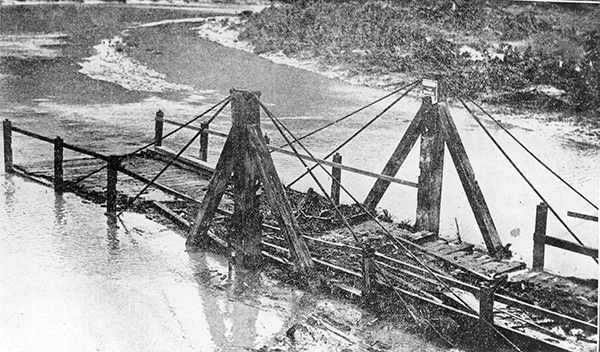 Struggle Long Since Lost: With little flash-flood warning more than the ubiquitous household barometer, it is probable that the Pūhoi swing bridgenot to be confused with New Zealand vernacular for simple suspension bridge, once in widespread pedestrian use in Aotearoa, and so-called for their propensity to swing in wind/use. Now commonly build as trails infrastructure. was swung open and secured before being hit by floodwaters. Either when photographed here, or subsequently, it was flood-damaged beyond repair and replaced with a fixed span—the coup de grâce to Pūhoi's steamboat era. Looking downstream; Hungry Creek out-of-shot, left. image Pūhoi Historical Society
Hungry Creek Road, historically—on foot or horseback—led to Pūhoi's handiest beach: Te Muri. Extraordinarily, the current regional parks management plan calls for the topographically challenged road to lead to a new Te Muri Regional Park "primary access point" at the park's western boundary. Although apparently never costed, to make Hungry Creek Road fit for two-way private-light-vehicle access by city drivers of indeterminate skill levels would have consumed tens of millions of council dollars, in the unlikely event Auckland Transport had ever been persuaded to schedule the works. Certainly, post the election of Wayne "Fix-Auckland" Brown, such budgeting was moot.
Bizarrely, the argument against the preconceived council intention to make Te Muri Beach private-light-vehicle accessible had already been won—twice. The first time was against a road bridge across Te Muri Estuary, to park 4000 cars behind the beach. Then, when the 383-hectare balance of the Schischka farm was acquired in 2010, road access via Hungry Creek Road and the farm's scenic ridge road, to park possibly as many. Both proposals were defeated in subsequent park management plan processes, most recently in September 2022. Orphaned in the most recent plan, however, was a modified via-Hungry-Creek-Road plan, with the car park near the western—Pūhoi end—park boundary. It sat in stark incoherence with the great thrust of the sustainable access policy, which even includes the possibility of public transport into  Wenderholm Regional Park. Now, thanks to the ill winds of 27 January 2023—briefly "the costliest weather event in New Zealand ever"—and Cyclone Gabrielle, Hungry Creek Road will now not be massively re-engineered, not only within the 10-year life of the 2022 regional parks management plan, but ever. At whatever mythical time in the future policymakers imagined such road building would be justified—to service a fraction of the people who currently worship at Te Muri Beach or will in the future—there would always have been far  more pressing road access issues elsewhere.
Gabrielle Guts Greater Travesty: Finally, the hand of anthropogenic global warming has shown itself and put paid the ludicrous plan predicated on building a bigger road up the fragile topography of Hungry Creek Road. image Mahurangi Magazine
Arguably, the greater travesty of the persistent private-light-vehicle access via Hungry Creek Road preconception is that it would have destroyed the road's heavenly purpose as walking access from Pūhoi and one of the most sublime sections of Te Araroa, the national walkway. This, aside from being a potential economic boon for Pūhoi, would provide a modicum of overland-flow-path enhancement, where the path traced the northern bank of Pūhoi River, to or from the domain, at the river's bottle neck.
Much post-2023 North Island Floods commentary is predicting or demanding that building-back-better will, or must, also be climate action. But one person's climate action is another person's climate atrocity—virtue-signalling ev-charging points in regional parks car parks, to name but one. The big picture is that New Zealand's economy, akin to that of China, is predicated on building houses for people who want to invest in them, rather than live in them. The population growth that this drives, not least of all to fill the labour shortage, means that Auckland Regional Parks—especially their swimmable beaches—will increasingly be overcapacity. The golden first-half-century of regional parks, where a new park was added every other year, looks to be being followed by a further 50 years of get-there-before-the-gates-open-or-forget-getting-a-picnic-spot.
In 2021, the car park fence at the southern end of Sullivans Bay was moved inland, doubling the level picnic area by an extra 0.15 hectares, and reducing private-light-vehicle capacity by about 50 spaces. This all but unexpected but commendable move deserves the unreserved support of every enthusiast for the magnificent regional parks network of Makaurauas the Mahurangi Magazine has long preferred to style terminally-eight-syllabled placename Tāmaki Makaurau – Auckland. For Auckland Council's declared climate emergency to be taken seriously, it needs to immediately begin allocating the best regional-park seats to those who actively contribute to decongestion, equity of access, and emissions reduction—when they are transported, virtually ticketedusing their AT HOP card or—once/if it replaces AT HOP, Snapper, Bee, and Metro cards, so help us—the National Ticketing Solution, to their regional park of choice.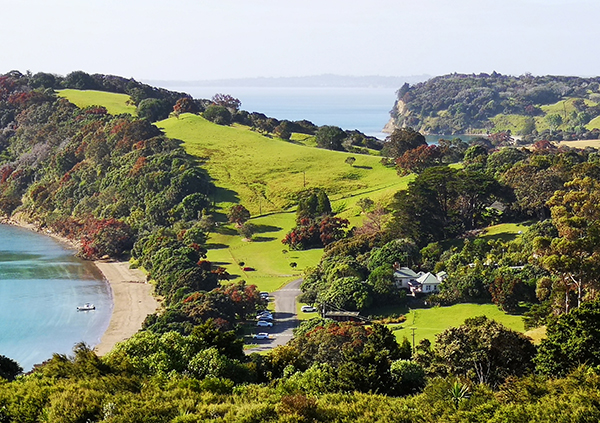 Regional Parks for Regional People: Signal regional parks climate-action policy must be, as has already begun at Sullivans Bay, is to prioritise human visitors over the private light vehicles of some of them. Finding itself the atmospheric rivermouth at Auckland Anniversary weekend postponed the Mahurangi Regatta's post-covid-19 moment of truth, but it is clear that from 2024 onward, regatta goers will need public transport options. image Mahurangi Magazine
Prioritisation, is key, however. Long Bay Regional Park already has a bus stop within the park. All that needs to be done is for it to be moved to near the northern limit of the private-light-vehicle-accessible parkland, and the car parking there redeveloped for frolicking, lounging and picnicking. Wenderholm needs the same unapologetic treatment, as provided for in its management plan. But whereas Wenderholm might begin by scheduling services every summer holiday weekend, when it comes to farther-flung parks, a certain pragmatism is called for. As when Wenderholm first opened, in the summer of 1965–66, when organised bus excursions introduced Aucklanders to their first regional-planning-era regional park, even the northern-most acquisition—Te Ārai Regional Park—could be part of a calendar of scheduled regional park runs, midweek and weekend.  
While Mahurangi Action's J Barry Ferguson  will usefully introduce many to the Mahurangi Coastal Path concept, it will be immediately apparent to them that if the path is to be used by a significant number of regional park visitors, a Judge ArnoldWorking name for Pūhoi Estuary footbridge, from 2015 Turner FootbridgeWorking name for Pūhoi Estuary footbridge, from 2015 would be required. The most recent Pūhoi Estuary-crossing concept iteration dates back to the management-plan hearings of 2016. Aesthetically, it was a first attempt at a serpentine route emulating the sinuous estuarine form. But, in mitigating landscape and visual impact, the height dictated by an up to three-metre tidal range, and allowance for sea-level rise and storm surge, means that, at low tide, a footbridge could appear to tower over the estuary, such as from kayak level. The extreme rainfall events of 2023 have signalled that although the minimum 255-metre wide of the estuary immediately downstream of the proposed crossing means that it only perceptibly floods at that point, the ≥360-metre-longvery possibly longer than 360, up to 390 metres deck, and its multiplicity of piles, would inevitably create a tremendous barragein the term's civil-engineering context of river debris, including forestry slash. While, eight kilometres upstream, this is exceedingly unlikely to translate to higher Pūhoi Village flood levels, it could all-too-readily result in the catastrophic failure of the footbridge.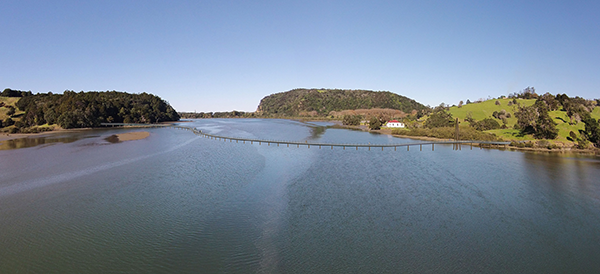 Best Not Good Enough: When it was produced for the regional parks management plan commissioners in 2016, this represented the best current thinking for a minimal landscape-and-visual-impact Pūhoi Estuary footbridge. A new, 2023, modular ribbon-pontoon concept would, at a low elevation, be almost invisible. Possibly more importantly, it could be released at key points to stream with the current to shed river debris / forestry slash. rendering Littoralis Landscape Architecture | drone image Majorlook Productions
A yet to be explored concept, in this context, is a modular, ribbon pontoon bridge, under which the river would flow—rather than through—except where an elevated section allowed the routine passage of kayaks and other small craft. Larger vessels, such as the scow Jane Gifford, and the odd multihull, would be permitted to pass by floating the navigation section clear. Crucially, however, in anticipation of flooding, the ribbons of modular pontoon sections either side of the main channel, would be streamed to the outgoing river flow, allowing river debris to harmlessly wash by. Importantly, not least of all from a visual impact perspective, the near-water-level deck would not require railing. While this would require a certain caution to be exercised, such is already typically the case beside rivers, it is also much easier for a soul to rescue themselves, or to be rescued, should misadventure see them overboard.
Back at Te Muri, aside from the bleed'n obvious—beach space is finite—it is also, tragically, inexorably shrinking. In a few places on the planet, beaches are backed by enormous dunes. Those that bejewel Hauraki Gulf beaches, however, will largely disappear with the first, locked-in, metre of sea-level rise. One can only wonder whether, when he themed his popular-audience work Storms of My Grandchildren, Dr James Hansen might have generated greater climate-introspection had the book been titled Beaches of Our Grandchildren. Generations of behavioural physiologists have counselled scientists against saying anything that could take potential climate-action inductees straight from anger to despair. The harsh truth, however is that individual behaviour tweaks will have no more impact on the climate emergency than they would have had in defeating the Third Reich. Only global mobilisation is capable of salvaging a halfway survivable climate, and as many of humankind's fellow species as only history will record as having been saved.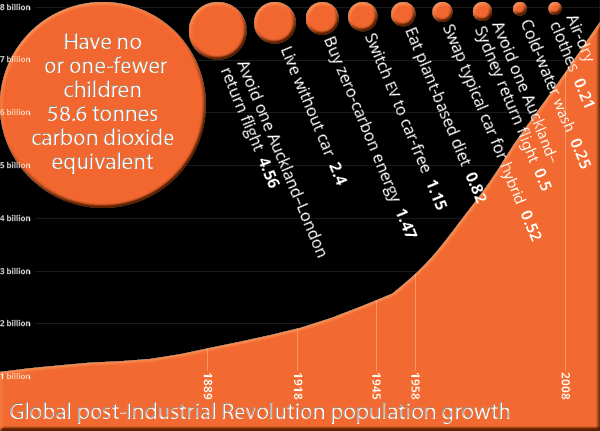 Ultimate Power in Hands of the Grandchildren: Short of adult-in-the-room leadership, or in concert with it, the best prospects of preventing the precipitation of unsurvivable climate on a regional scale is if a generation of the world's young people make the ultimate sacrifice of mobilising, to not  conceive. Anything less will fail to derail the headlong gross-domestic-product-before-planet, first instinct of politicians. chart Mahurangi Magazine | data Our World in Data
Although there is currently no indication Hipkins has the vision to lead it, New Zealand grandchildren of the age Dr Hansen's arethese 13-and-counting years on now, fresh from being subjected to their country's most powerful named cyclone, could be excused for demanding that their imposed prime minister immediately articulate such a vision, and manifest the courage to lead its implementation. With no sign of the necessary Churchillian, leadership cyclogenesisa stretch, and shameless excuse to play with a tropical cyclone term needed, the sole  remaining key is in the hands of youth, had they the collective wit to recognise and use it. Only by abruptly withdrawing their collective, banked on propensity to breed, will the gross-domestic-product-predicated business world, and its bought-and-sold elected policymakers, begin to take a blind bit of notice.
In a functionally democratic world, a plan would have been devised to all but cease anthropogenic global greenhouse gas emissions, in the 1980s. Four decades on, in a significantly less democratic world, a convincing display by one country of democratically devising and beginning to implement, a coherent plan, could win hearts and turn heads, and be  the economy. Aotearoa, understandably, has a highly successful, highly unsustainable, visitor industry—vying with dairying in both regards. But the-economy-or-the-climate has always been a false dichotomy, and both the visitor and dairying industries can  be part of the shining solution. The flagship industry could be a world-leading, masters of energy, environmental and population change, food production, history of technical innovation, risk assessment, and public policy—to plagiarise energy polymath Dr Vaclav Smil's brief biographical profile, in profoundprofound and abject humility.
The first graduate of the two-plus-year masters-of-climate-action programme, and acer of the sustainable-food-production elective, could lead a country in demonstrating to the world that mitigation and adaptation is both practicable and economically viable. Meanwhile, with ocean temperatures by then potentially routinely resulting in their formation in Tropical Cyclone Region xiii, its world-leading MetService – Te Ratonga Tirorangi meteorologists could be naming the tropical cyclones of their grandchildren.
Drowned Beaches of Their Grandchildren: With merely the first metre of sea-level rise, their regional-park grandchildren would have no beach at which to swim, nor at Te Muri. Waiwera, if reimagined as a little Venice, could still offer hot mineral pools, and invigorating ocean bathing—at least by late winter, of a year. On this Auckland Council map of Wenderholm Regional Park, the one-metre inundation area is only marked within the park boundary. Sea level, of course, is no respecter of regional-park boundaries. Otherwise, the conceptual ribbon-pontoon crossing has a primary elevated and opening section to retain the full navigability of the Pūhoi River, and a secondaryto allow the routine release of river debris and navigation of kayaks elevated section. sea-level rise map Auckland Council | conceptual crossing route and labels Mahurangi Magazine
Weighing footbridge landscape-and-visual impact Of the myriad means by which park users could cross the Pūhoi Estuary, the ≥ 360-metre length of the ribbon-pontoon "footbridge" has an inescapable visual impact. Also inescapable, however, is baked-in sea-level rise:
The map [adjacent] illustrates that with one metre of sea-level rise

rendered "sea level", unhyphenated, in the regional parks management plan review discussion paper, but Mahurangi Magazine style, and style guides throughout the civilised world, can't abide such barbarism!

at Wenderholm Regional Park most of the recreational area and beach will be under water.
Although modelling maps show Wenderholm experiencing up to 1.29 metres of sea-level rise by 2100, recently published studies such as Extensive Inland Thinning and Speed-Up of Northeast Greenland Ice Stream, point to the strong possibility of significantly faster rise. It would be preposterously perverse to prevent people prepared to use public transport and perambulate, from experiencing the sense of splendid isolation of Te Muri—similarly at the mercy of sea-level rise—because of the visual impact of people walking across an estuary, and the all but invisible, low ribbon-pontoon they might walk upon.
Fifteen-day delay It is unusual for the Mahurangi Magazine to take quite so long to notify an article. In the case of Giselles and Gabrielles of their Grandchildren, it was imperative to talk with the people most acutely impacted by Cyclone Gabrielle. The Mahurangi Magazine thanks those people for their humbling preparedness to discuss the profound impact of climate-charged extreme rainfall events on their property and lives.
Disclosure The author of this article is the secretary of both Mahurangi Action Incorporated and the Mahurangi Coastal Path Trust. The article published here, however, is that of the editorially independent, independently funded Mahurangi Magazine.
Dedicated to the democratic mobilisation of meaningful Mahurangi climate action.
Copyright ©2023 Mahurangi Magazine. All rights reserved.