Reporting on not just the latest in a litany of Mahurangi actions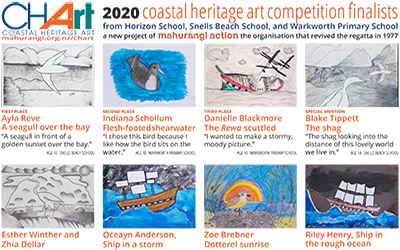 Chart is not just the latest in a long line of Mahurangi actions. Nor is it the first initiative that might have regional significance, given that that distinction surely goes to the Mahurangi Regatta, which Mahurangi Actionthen known as, as it was established 1974 as, Friends of the Mahurangi revived in 1977, and to Ronald Harry Locker's Jade River: A History of the Mahurangi, which the organisation published in 2000. The world-first-in-Aotearoa Sandspit Road trial of forestry-style-raised indigenous plants yet have the potential to be of national significance, but only if its results are taken notice of, to slash the cost of reforestation at scale.
Providing a home for the joyous Coastal Heritage Art competition for schools was an absurdly easy decision for the Mahurangi Action committee, and not only on account of the strong expectation that chart deserves to soon outgrow the Mahurangi to become, if not a regional institution, then certainly a Kaipara ki Mahurangi one. Being left with bragging rights is no bad thing, as occurred when Petersplural, of course, of Peter. Also the given name of the writer until he belatedly addressed the embarrassment of Peters, and dearth of Salvatore Cimino-inherited names Bailey and Oxborough formed the Mahurangi Cruising Club, after recreating the Mahurangi Regatta in the image of their own classic yachts, from within what was then called Friends of the Mahurangi. Not that Mahurangi Action is in any hurry to see chart fly the coop, not least of on account of the dynamism its director, committee member Kelsay Grovehills, brings the organisation.
Tempting as it is not, to recite a litany of Mahurangi Action milestones, this report will mention only one. When Mahurangi Action revived the Mahurangi Regatta, in 1977, it did so without simultaneously reviving the after-match function, the prize-giving dance. Duty bound to contribute to Warkworth's 150th celebrations, however, Mahurangi Action held the Mahurangi Regatta Ball, on the evening of the 2005 regatta. Told in no uncertain terms that the ball was only being permitted on account of the heritage import of Warkworth's anniversary, the success of the evening made it all too obvious that a regatta without a prize-giving dance was no regatta at all.
Sixteen years on, it seemed less than intelligent to encourage hundreds to dance in great abandon packed into a marquee spitting distance from the West City Jazz Orchestra, while the covid-19 pandemic, globally, continues to accelerate. Not willing to make that concession, support has poured in to ensure that the prize-giving dance, now an institution, can proceed, in relative safety. The changes that will be made will be subtle and not impact on the unique, relaxed format where sailors walk ashore into a halcyon slice of a world so civilised it needs no gates and security guards, and nothing stands in the way of a sublimely enjoyable evening. The changes, if anything, will reconnect revellers and their musicians with a harbour awash with riding lights, while providing a little more elbow room.
On trackpun appreciated to rival the regional importance of the Mahurangi Regatta, and also involving a spun-off organisation—the Mahurangi Coastal Trail Trust—is the Mahurangi Coastal Trail. When the regatta was revived, regional-parks permission was readily obtained, possibly directly from the farm manager of the then un-opened regional parkland. When to coastal trail was conceived exactly a decade later, in 1987, it was in opposition to Auckland Regional Authority plans to build a road bridge across Te Muri Estuary and to park up to 4000 cars adjacent the beach. The decision on the route for the boardwalk and footbridge envisaged then, was only made these 33 years on, on the brink of the level-4 lockdown. It behoves Mahurangi Action to not be too judgemental, because when first mooted, by long-since defunct Mahurangi West and Pukapuka Residents and Ratepayers Association, it was several annual general meetings before it adopted the Mahurangi Coastal Trail. 
The reason that the coastal trail will likely rival the regional importance of the Mahurangi Regatta—beyond the obvious different of it being 365-days-of-year infrastructure, as opposed to a 4-day Auckland Anniversary weekend event—is the climate emergency. The pandemic has proved that New Zealanders are perfectly cable of happily holidaying without adding flying emissions to their outsized carbon trespasses. The Mahurangi Coastal Trail will put the whole of the Waiwera to Mangawhai within walking and cycling distance of metropolitan public transport, and, simultaneously, introduce Aucklanders to the first, sublime, non-urban section of Te Araroa, the national walkway, north of the metropolis. A low-carbon life need not be a dismal one, in fact, provided that the low-impact, low-capital-cost infrastructure involved in the likes of the Mahurangi Coastal Trail is invested in, lives would be richer, mentally as well as physically. A Mahurangi regional contribution to the globally significant climate-action mobilisation—to put the imperative ludicrously mildly.
The ill pandemic wind has brought the wider Mahurangi $9.1 million of Ministry for the Environment Jobs-for-Nature stimulus spending. When the funding was announced on 4 July, Mahurangi Action wasted no time in offering the Warkworth Town Hall Talks as an opportunity for Auckland Council to communicate details of how the funding was to be deployed. However, in a demonstration of how appropriately seriously it now treats is duty to adopt a partnership approach, Auckland Council, on 2 December, announced that it and the Ngāti Manuhiri Settlement Trust had signed a relationship agreement to design and deliver the $5 million Mahurangi sediment reduction programme component—the balance is providing critical funding to the Mahurangi River Restoration Trust programme of dredging. If the extremely constructive relationship that has been built between the council, Ngāti Manuhiri, and the Mahurangi Coastal Trail Trust is any indication, this approach bodes well for a collegial, respectful, and intrinsically holistic approach to sediment mitigation. The vast bulk of the 21 000 tonnes of Mahurangi soil lost annually, on average, quoted by Auckland Council, is predominantly lost in the years boasting extreme rainfall events. Extreme rainfall events, of course, are the very thing that climate scientists have long warned will occur with greater frequency and ferocity.
2020 annual general meeting minutes
Conducted via email 8–14 December 2020
Annual statement of accounts showing total funds including assets of $14 917 as at 30 June 2020. Approved. Moved by Cimino Cole, seconded by Kelsay Grovehills
Minutes of 2019 annual general meeting as distributed, amended, and subsequently approved, by those in attendance on 9 November 2019.
2020–2021 committee and officers
Election of 2020–2021 committee There having been no further nominations received, that the incumbent committee and officers nominated be re-elected. Approved. Moved by Cimino Cole, seconded by Hugh Gladwell
Tessa Berger (as president incumbent) entrepreneur, Rodney Local Board member, chair of Mahurangi Coastal Trail Trust nominated by Cimino Cole, seconded by Kelsay Grovehills

Cimino Cole (as secretary incumbent) Mahurangi Magazine editor, secretary of Mahurangi Coastal Trail Trust nominated by Hugh Gladwell, seconded by Allison Milne

Jim Dollimore incumbent managing director of Biomarine nominated by Cimino Cole, seconded by Kelsay Grovehills

Kelsay Grovehills (as chart director incumbent) former longtime editor of Mahurangi Cruising Club Yearbook nominated by Cimino Cole, seconded by Hugh Gladwell

Hugh Gladwell incumbent legal consultant, trustee of Jane Gifford Trust and Mahurangi River Restoration Trust nominated by Cimino Cole, seconded by Kelsay Grovehills

Cluny Macpherson emeritus professor, Massey University nominated by Cimino Cole, seconded by Kelsay Grovehills

Allison Milne marketing manager nominated by Cimino Cole, seconded by Kelsay Grovehills

Caitlin Owston-Doyle incumbent film crew and stunt woman nominated by Cimino Cole, seconded by Kelsay Grovehills

Clynt White incumbent landscape architect and urban designer nominated by Cimino Cole, seconded by Kelsay Grovehills
2021 Mahurangi Regatta
Reinstatement of 2021 Mahurangi Regatta Prize-Giving Dance The Mahurangi Regatta has received a very generous and very emphatic offer of financial support, from a long-time Mahurangi Regatta devotee who wishes to remain anonymous, to reinstate the one-year-only-cancelled Scotts Landing prize-giving dance. Resolved, that the 2021 Mahurangi Regatta prize-giving dance be reinstated, with all reasonably practicable measures taken to avoid overcrowding, and to facilitate tracking and tracing. In respect to overcrowding, that a larger marquee be deployed and sited facing the beach, backed as close against the foot of the hill as possible. Noted, that the subsequent roll-out of Bluetooth tracing upgrade for the covid-19 contact tracing app considerably mitigates the risk posed by the event. Moved by Cimino Cole, seconded by Hugh Gladwell
Received, on 15 December, the anticipated agreement from the Auckland Council's regional events fund, for $4000 for the Mahurangi Regatta, which was signed and returned.
Minutes approved and meeting closed Effective 12.44 pm 15 December 2020, the 46th annual general meeting closed with the acceptance of the minutes as then published online as a true and accurate record of proceedings. Moved by Hugh Gladwell, seconded by Allison Milne