If it's democracy that's broke, fix it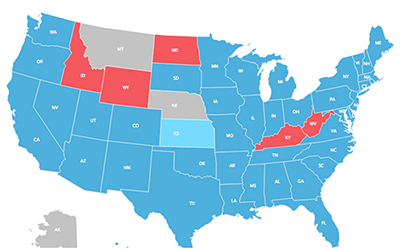 From Day One he's wanted a better slogan than 'the World's most liveable city.'
For his trouble, and even before hearing what that slogan might be, Mayor Phil Goff is being rubbished and ridiculed for wanting to replace the city's tragically generic branding, with something he hopes will speak to the region's uniqueness.
The city has suffered a from serial rebranding, but to argue that because of those sins, some frozen form of musical chairs dictates that Aucklanders must endure Len Brown's meaningless 'mission' for eternity is silly, and the tendency dangerous. If something is suboptimal, it should be improved whenever the opportunity to do so arises.
When the United States was in the throes of electing the dubious intellect who was to become the most unpopular president in the last eight decades, the World was fixated on one of the closest races for the White House ever, symbolised by hanging chads. What went largely uncommented on, however, was the arcane electoral college vote system that perverts the will of the people and can result in a person receiving fewer votes than their rival, being elected. Al Gore received half a million votes543 895 more than George W Bush, but was denied the presidency. A heavily Republican Supreme Court stopped the recounting of votes, and 2000 became the fourth United States election where the people were robbed by a flawed system.
But as undemocratic as that loss was, the race should not have even been close. Al Gore went off message, suspending his climate action crusade and offering himself as a wooden, smooth-below-the-belt version of his boss, Bill Clinton. Had he lost to one of the most honourable presidential candidates in the Republican Party's history, climate action advocate John McCain, the failure might have been forgivable. But against the conniving son of George H W Bush, Gore should never have come close to being robbed of Florida, and thus the election.
Hillary Clinton's winning margin, while now exceedingas at 17 November: 1.2 million Al Gore's, her aspirations of becoming the first female president of the United States didn't come close to hanging on ambiguous voting-card chads. Regardless of whether subsequent analysis will find that the polls understated her already dismally low popularity, as in the 2000 Republican primaries, the Democratic Party has only itself to blame by not acknowledging the deep public dissatisfaction with big business, status-quo politics personified by socialist Bernie Sanders currently being the most popular politician in the United States.
If the United States Electoral College was to earn its keep and award the presidency to the candidate who won the greatest number of votes, a valid argument for its retention could be made. Certainly, if the boot was on the other foot, Donald Trump, known to regard the constitution with some ambivalence, would doubtless be demanding the immediate abolition of the byzantine pre-telegraphelectric telegraph relic, under the threat of armed insurrection, and indeed there is strong public support polled for its abolition as recently as 2013. With this fifth and latest electoral travesty, there can be no justification for failing to do what should have been done following those of 1876 and 1888, but certainly immediately after the aberration-waiting-to-happen that was 2000.
Aside from being structurally undemocratic in this and many other ways, the United States electoral system has long simply been corrupted by big money. In that regard, it needs urgently reforming along the lines proposed by Bernie Sanders, or indeed those proposed by the Republican president-elect himself:
I am going to re-institute a 5-year ban on all executive branch officials lobbying the government for 5 years after they leave government service. I am going to ask Congress to pass this ban into law so that it cannot be lifted by executive order.
I am going to ask Congress to institute its own 5-year ban on lobbying by former members of Congress and their staffs.
I am going to expand the definition of lobbyist so we close all the loopholes that former government officials use by labeling themselves consultants and advisors when we all know they are lobbyists.
I am going to issue a lifetime ban against senior executive branch officials lobbying on behalf of a foreign government.
I am going to ask Congress to pass a campaign finance reform that prevents registered foreign lobbyists from raising money in American elections.
Whether 'the great I am' will pull up the ladder after himself by initiating any or all of this particular of his five-point plans, much less whether the big-business-bought-and-sold congress will vote for an early Christmas by obliging him, is yet to play out. Ironically, if he did, he would have made a bigger contribution to democracy than a Clinton dynasty or Obama administration ever could.
For sheer cussedness, Aotearoa might not have any electoral apparatus in the league of the United States Electoral College, but nor is its system free of patently undemocratic features. For example, far from being elected, New Zealand's head of state is the recommendation of an indirectly-elected prime minister. As long as governors-general play the game and refrain from exercising any of their powers or prerogatives independently from Parliament, many might imagine New Zealand's democracy doesn't need fixing. But with a calculatedly disruptive new Opportunities Party planning to influence decisions from the parliamentary cross benches, a situation could easily arise in which it is unclear which party leader should be sanctioned by the governor-general to form or confirm a government. Sir Geoffrey Palmer QC and Andrew Butler propose a written constitution that would give Parliament the power to appoint the person responsible for dissolving Parliament. While the contorted election of the unpopular populist that is the potentially very dangerous Donald Trump is no advertisement for it, this is no justification for New Zealanders being denied the fundamental right to elect their own head of state. Besides, nobody is suggesting that, whatever role the governor-general includes, it include commander-in-chief.
Failing to fix civic or state shortcomings is to sell human potential short—whether something as deeply important as the mechanics of democracy, or as symbolically important as a city's slogan. As the city of sails, Auckland had the potential for sailing to be a unifying experience. Sail was the technology that brought the first people to these shores seven hundred years ago, the culminating achievement in settling the islands of Oceania spread over an area of more than 8.5 million square kilometres. Sail also brought Europeans here, rather more recently. Allowing every child to learn basic sailing skills would provide an egalitarian foundation for the City of Sails, and a connection of the cultures to their common adopted homeland.
Regardless of what replaces it, 'the World's most liveable city' slogan deserves to find a home, some place lacking the attributes to justify anything less generic, or with inhabitants insufficiently energetic to invent something more imaginative—Hillary Clinton possibly has in mind one or two districts of 'deplorables' sufficiently nondescript to benefit from it.
Finally, if further proof was required of the dangers of leaving democracy unfixed, the shameless self-promoter who is about to assume the highest office of the most powerful industrial-military state on the planet, has succeeded in being elected by just a quarter of America's eligible voters.
Before something as dangerous as Donald Trump happens down under, if it's broke, fix it.
The Spinoff on 17 November, Calm down, NZ Herald. The new Auckland slogan search was fine