Open-ground indigenous plant project so far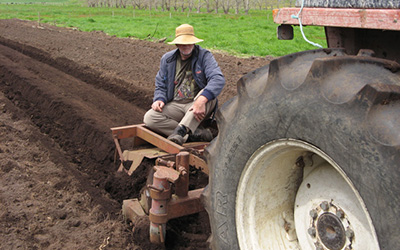 Three small open-ground plots containing a total of around a thousand plants were established in the spring of 2006.
The conditions at the Jones Road nursery proved to be very conducive for most of the indigenous species planted. From the outset, three factors were going to be critical:
Irrigation (highly-treated wastewater was used)
Shade (cloches of 35% shade cloth)
Competition from weeds.
The irrigation and shade regime worked well but most of the carex grass lost its battle with the weeds. However, that was a direct result of inadequate weed control, and this spring it is proposed to trial Ecocover biodegradable weed mat.
While forestry nursery practices are the model for the project, there are two areas where the methods will need to be quite different for indigenous species. The most critical is that radiata pine can readily be grown in open-ground beds from seed. And not only does radiata pine seed readily germinate, it well-tolerates direct sunlight and wind.
In contrast, the indigenous species that were grown by Jaap van Dorsser, from the 1960s onward, were initially raised in seed trays in a sheltered environment and then 'lined out' (planted in lines) in the open-ground beds. While this was also the method used at our pilot, it is envisaged that once larger numbers of plants are involved, the seedlings will be produced by one of the several mechanised systems in now in general use in horticulture.
Not surprisingly, establishing a forestry-style nursery on a small-scale is an inherently inefficient business. The bed forming is a good example. The aged borrowed bed former produced beds that were too narrow and inconsistent in profile. Widening and fairing these by hand sounded reasonable, but proved to be inordinately time-consuming.
Another task was made overly time-consuming as the result of deliberately working with seedlings that had been well hardened off. Teasing individuals clear of their heavily root-matted mates took as long to perform as the actual planting. In the case of the carex grass, it undoubtedly also contributed their failure to compete with the flush of weeds…
…which particularly enjoyed the regular irrigation.
See also Open-Ground Indigenous Plants Report