Plants for trials to be raised in Taupō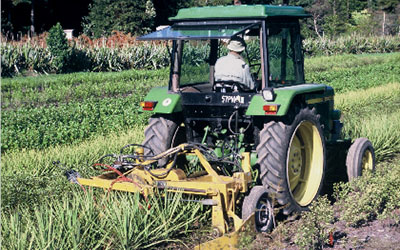 The Sustainable Farming Fund is laudably flexible.
Recipients of the Ministry of Agriculture and Forestry's fund are urged to speak up if, partway into a project, better outcomes can potentially be achieved by re-jigging the plan. The pilot open-ground indigenous plant nursery at Ōmaha Flats came about in response to:
The need for large-scale establishment of indigenous trees in the Mahurangi catchment to reduce the sediment generation associated with grazing
The need for a more productive application for treated wastewater at the Rodney District Council's Ōmaha Flats treatment plant.
While the initial small-scale trial has been promising in terms of plant vigour, and the irrigation regime, there has been a realisation that for a robust, full-scale field trial that compares open-grown with 'standard' container grown plants, both types of plants need to be raised by experienced nurseries.
There are a number of established open-ground nurseries but, not surprisingly, the nearest are located in the central North Island, where New Zealand's exotic forestry industry was first established.
As the principal advisor to this project, legendary forestry nurseryman Jaap van Dorsser, is located at Ngongotahā and the project scientist, Dr David Bergin, is based at Rotorua, having the plants for the field trials grown on contract in that region makes great logistical sense—including because it obviates the necessity of transporting the specialised machinery all the way from there to Ōmaha, for a mere one-day's work.
The formal proposal to relocate the open-ground trials is in the process of being developed. If the blessing of the Sustainable Farming Fund is obtained, this does not mean that work will cease at Ōmaha. Far from it—it is proposed to utilise the infrastructure established there to begin development and trials of a hybrid system that seeks to combine the advantages of open-ground and container methods.
If either or both these methods succeed, their application could be global…
…the need for reforestation worldwide is enormous.
See also Open-Ground Indigenous Plants Report