Everything well in hand in Taupō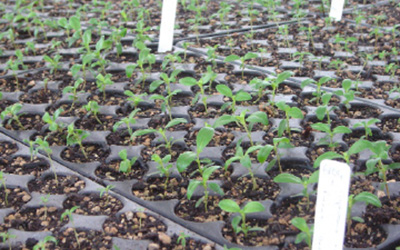 Nursery manager Philip Smith has got everything well in hand. My assistant Michael and I called in briefly last Monday at Taupō Native Plant Nursery, on way to a week working on a Wellington project.
All the seed supplied from Mahurangi, from Rodney Straka and Jane Allison, has been sown some time ago into seed trays and there has been good germination. Many have already been pricked into propagation cells as per standard nursery practice.
Philip showed us some of the karamū and mānuka that had been transferred to propagation cells where seedlings are approximately 5 cm high with roots already developing well throughout the potting mix.
The open-ground beds were in the process of being prepared for transplanting the seedlings, when they are 10–15 cm high and hardened off for open growing conditions.
Transplanting to open beds will be largely completed by end of November for most, if not all, species. Philip is looking at a relatively wide spacing in the nursery beds (up to 20 cm between plants) to allow for good crown development with lots of lateral branching.
There will also be stock raised in polythene planter bags (PB3) and Hillsons Rootrainers to allow for comparison of potted, root trainer and open-grown stock in planting trials next year.
See also
Notes for Taupō and other items in menu under Open-Ground Project.