Sex politics and spaceflight at brainstorming breakfast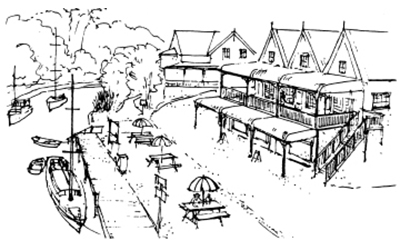 The ancient enjoinder—that guests should not discuss sex, politics or religion—should possibly be updated.
I fear I have offended on more than one occasion by suggesting that spaceflight, henceforth, should be unmanned. Be that as it may, none the traditional taboos, nor the safe-in-any-company topics of sport and the weather, have had so much as a mention at the 'Mahurangi Breakfast Club'.
What has been discussed, in this informal and largely random forum, is all things relating to the future of the Mahurangi. It arose from a comment by Friends of the Mahurangi executive member Mike Neil:
You know this is a criticism I've voiced before, we don't have enough meetings.
My breath had just taken away by how Mike, for the second time in about as many days, had taken an idea of mine and promptly taken to the next level, or three! When I remarked on this ability, Mike had made his statement, adding. 'We need regular face-to-face meetings to spark ideas off each other!'
Now, I was pretty sure that Mike was not suggesting committee meetings, particularly of the invariably turgid monthly, evening variety—Mike did not get where he is today by sitting around talking about it. But for the moment I could not envisage just when and where we could meet.
Forty years ago, when I first navigated the Mahurangi, Warkworth determinedly had its back to the river. Admittedly the town sported a substantial concrete wharf but otherwise the river was offered little more than the untreated municipal sewage, and a little downstream, the town's rubbish pushed out into the mangroves.
The concept of Warkworth reorienting itself to embrace its waterfront is something Mahurangi Actionestablished 1974 as Friends of the Mahurangi has promoted over the years. Tragically, when the council did find money for the river frontage, it was to develop car parking. Before you start, I am pro-car, just anti powering them with fossil fuels and parking 'em on prime real estate.)
There are some glimmers of how consumer power could, potentially, be wielded on a formidable, international scale. But meantime, acting locally, I religiously patronise Ducks Crossing, a business that beautifully embraces the river—the developer responsible for retaining the heritage link to the old dairy company building deserves acknowledgement.
Blame being an impressionable child with a never-the-less totally innocent take on Hammerstein's highly sexually charged 'café on de corner' lyric, but passionate conversation, al fresco, has always seemed to me like the epitome of civilised living. Then, blame Kim Morresey for asking when Mahurangi Action meets. The Ransom's 'Meet Ms. Morresey' gathering fulfilled one format but there are just too many topics and insufficient spare social evenings for it to serve the ongoing brainstorming need.
So the Mahurangi brainstorming breakfasts were finally initiated, every Friday at the Riverview Caféthen named Ducks Crossing 7.30–9.30 am, or anytime between. Kim is currently attending every other Friday, finding the 'leave all official hats at the door' explorations liberating. No decisions are made; the 'meetings' simply have no authority. To date, invitations have been somewhat random—'So and so might enjoy this!'—but There is no rule seven!Rule Seven applies and anybody is free to join the discussions.
In fact, neither is there a rule against talking rugby, but along with sex, politics and religion, and spaceflight manned or unmanned, there are just too many exciting ideas to discuss relating to that which is immediately before us. The Mahurangi River.

ev advocacy update That, 10 years on, plug-ins made up only 0.4% of passenger cars on the road globally, indicates just lamentably the Mahurangi Magazine was in need of educating by the likes of Dr Paul Mees' Transport for Suburbia: Beyond the Automobile Age.