For canine crew members, regatta rules okay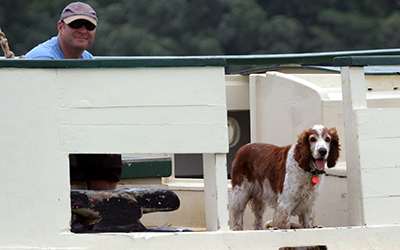 Updated January 2018
Dogs are welcome at the Mahurangi Regatta, just not everywhere.
For example, dogs are not permitted at Sullivans Bay at any time. But next door at Mita BayMita is pronounced Meetuh, and although newcomers tend to pronounce it Mitre, even worse was Meter, when it was mistakenly rendered as such on an official map! dogs can be taken ashore to the beach, so long as they are under direct and continuous control, which probably means leaving the Jack Russell on its industrial-strength lead. Dogs are excluded from the campground and parkland.
Similarly at Scotts Landing, but only after 6.30 pm and 10 am. Dogs are neither welcome or permitted at the prize-giving dance. Regional park rules exclude dogs from all booked events, but in any event, dogs are not conducive to massed people sprawling on the grass, enjoying food, wine and music.
But nobody enjoys being told what to do, particularly at the relaxed affair such as the Mahurangi Regatta. Even if the direction is ever so gently couched, the impact still smarts:
Oh-my-god you're serious!—dogs aren't allowed!—you were being so nice I thought you were kidding me.
The editor is relieved to report that he was not compelled to be the nominated dog ranger this year, as the regional parks management is hiring the services of the local security service to assist with the smooth running of the after-match function, including to help keep the Scotts Landing vehicle manoeuvring area functioning. This is just part of the regional parks response to the realisation that this regionally import event was stretching local volunteer resources too thin.
Because the year-round regional park dog rules are a little involved, only the rules prevailing at the time of the regatta are published here:
Okay summer* rules
*Summer, in this context, is Labour Weekend to 1 March
Sullivans Bay and Te Muri parkland and beaches Dogs are prohibited.
Cudlip Point Loop Track Dogs are allowed all day. Dogs must be on leads at all times.
Mita Bay Dogs are allowed at all times on the beach only and the coastal/beach around to Ōpahi Bay. Dogs can only access Mitapronounced meetuh Bay by boat, or by foot from Ōpahi Bay (which is outside the park). Dogs must be under direct and continuous control at all times. Dogs are prohibited from the campground and parkland.
Scotts Landing land and beaches Dogs are not allowed on the grassed area booked for the regatta—the entire coastal terrace, up- and down-harbour of the homestead. Elsewhere, dogs are allowed, however, between 10 am and 6.30 pm, they must be on-leash.
Not only at the prize giving and dance Dogs are not permitted on parkland booked for events; the exclusion of dogs beyond the beach applies to all booked events there, not just the Mahurangi Regatta.