Shweeb and/or rail-saving trail-with-rail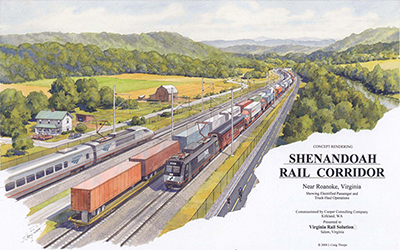 Aotearoa must urgently re-invent its tourism model.
Currently it is heavily dependent upon air travel, which will increasingly become cripplingly expensive thanks to peaked oil and user-pays for greenhouse gases.
Aside from the obvious need for more-fuel-efficient aircraft, and for smarter aircraft and airport operations, Aotearoa must mount a three-part strategy, if tourism is to maintain its place alongside dairying as the country's biggest earners. The three parts involve complimentary strategies: Longer-staying visitors, greener visitor experiences, and more domestic visitors—New Zealanders.
And aside from the obvious benefit of New Zealanders spending their money locally, rather than taking it offshore, much of it on fossil fuel, domestic tourism can help provide a baseload for the visitor industry. For this to happen, New Zealanders would need to receive exceptionally good value for their vacation spending. This in turn dictates that overseas visitors can afford long, relaxed holidays.
The key to affordable holidays is to make Aotearoa's sublime landscape more accessible, and a national cycle trail is precisely the sort of infrastructure required. But its budget of $50‍ ‍million is a mere 3% of the $1.65‍ ‍billion budgeted for the planned 34-kilometre Pūhoi–Wellsford motorway. The commitment is far from courageous, as is the dilution of the cycle 'trail' by including large sections:
…comprising of largely on-road cycle routes.
Green tourism is a given. Only by providing a genuinely green experience, can Aotearoa capitalise on its '100% pure' advantage. And longer-stay tourism is inherently greener, providing that a much more intelligent model is moved towards, and away from that of filling highways with motor homes.
This, of course, is where rail-with-trail comes in. Had the concept snowballed earlier, a programme of adding walking and cycling trails could have prevented the closure of countless railways worldwide. And the rail trails that sometimes result from railroad closures, rail-to-trail, are but small compensation.
Rail-with-trail would encourage travellers to leisurely explore the length of the land of the long white cloud. And whenever the body grew weary, or headwinds became too tiresome, the traveler could hitch a ride on the next train. Conversely, rail travellers could do the odd sunny section by bike or on foot, and find their luggage conveniently awaiting them at their next scheduled lodgings. Tellingly, one of its biggest promoters is the Rails-to-Trails Conservancy, based in Washington, D.C.:
Rails-with-trails also make efficient use of rail corridors by providing more transportation choices and recreation opportunities for the community. In many places it is difficult to find land on which trails can be built so utilizing an existing rail corridor can be the best option. Also, the continued expansion of urban sprawl rarely leaves space for multi-use trails. Provided trails next to rails are developed in a safe and well-planned manner, they can be a highly efficient way to make the most of scarce space in a community.

For example, the five-mile Folsom Park Trail in Folsom, California is being developed with the specific goal of making the best use of the existing transport corridor. It will include not only the trail and the future commuter light rail, but a road as well. The trail is expected to boost rail ridership as train commuters use the trail to cycle or walk to the stations for their commute to Sacramento.
Despite being around for at least 45 years—the Illinois Prairie Path opened in 1966—rail-with-trail is still relatively small. In the United States, as of 2002, there were about 17‍ ‍750 kilometres of rail trail, compared with a mere 385 kilometres of rail-with-trail, alongside active railway. Accordingly, if Aotearoa adopted the concept wholeheartedly, it could quickly become a global leader. But to harbour leadership aspirations, Aotearoa would need to move quickly, because in addition to 32 of the United States, Australia, Canada, Denmark, the Netherlands and Switzerland already have rail-with-trail.
While the near proximity of trains has an almost universal appeal, it will appal those fixated upon the terrible consequences of the feeble human frame being struck by the ultimate in unforgiving juggernauts. But without a kilometre of rail-with-trail,
Between 2006 and 2009, 32 pedestrians were killed in rail accidents in New Zealand. Seven of the fatalities were in Canterbury.
At that rate, 17 years of rail pedestrian fatalities equals the entire 2011 Christchurch earthquake toll. Meanwhile, the real killers are on the roads:
Even with an active rail line near the trail, the exposure from a track carrying ten to twenty trains per day is much less than a road carrying thousands of vehicles per day.
Indeed, the Canadian government sees development of rail-with-trail as a safety strategy:
The proper design and effective use of space can lead to a reduction in the incidence of pedestrian conflicts with railway operations and improve overall safety and quality of life in the neighboring community.
Understandably, railways operators tend towards the risk-adverse, and gaining their consent to share railway corridors is a major frustration for rail-with-trail advocates. Fortunately, the United States Department of Transportation has done a definitive job of reporting on the rail-with-trail lessons learned and producing a detailed design guide, so the New Zealand Transport Agency need not immediately run out and emulate its noble example.
There is, of course, a variation of rail-with-trail that Aotearoa is perfectly positioned to pioneer: Shweeb‑with‑rail.
The easy gradient of railways that makes them irresistible to cyclists is also perfect for the Shweeb. And rather than the sometimes considerable cost of broadening embankments and cuttings to accommodate a trail, the Shweeb can be suspended to one side. And because it is also a tracked system, it can safely run quite close to the rail lines with no risk of a rider straying into the path of a train.
However, at US$1‍ ‍million per kilometre, Shweeb is cheap only in comparison to roads. The City of Kelowna in the Okanagan Valley, for example, has completed the first phase of a 22.3-kilometre trail that budgeted to cost US$300‍ ‍000 per kilometre to establish.
An alternative would be to develop Shweeb as part of rail electrification, with the railway's catenary poles designed to also gracefully suspend the Shweeb's slender twin monorails. The readily available electrical power would also be useful, such as where the Shweeb might need to swoop over a hill, where it wasn't economic to accommodate it in any new or upgraded tunnel en route. Shweeb riders, in that scenario, would have the option of changing down and powering up the hill, or allowing the escalator kick in and waft them to the top. And at the top, where a siding was warranted, they could even pull off awhile and soak in the view, including of the line snaking away in search of the next tunnel.
Whether it be Shweeb or bog-standard trail, the concept powerfully complements rail. For rail to be a rich experience, the route needs to cater for visitors other than those that arrive by rail. Helensville Station achieves this by catering for road users, and for locals addicted to the café's decadent ginger crunch speciality. However the station could also be the hub, not only for rail-with-trail or Shweeb-with-rail, but for a Shweeb service to Parakai's hot mineral pools.
Farther north, from Kaipara Flats, Shweeb would make the perfect connection to Mahurangi and Matakana, and ultimately the entire Pakiri–Pūhoi 'north of the motorway' region.
Now that is a visitor strategy.