Seats set to fill fast for first of two open-ground field days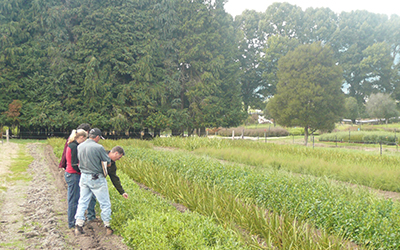 It's little wonder the new Taupō nursery's in South Auckland.
If the 15.4% of Auckland region that has eroded or eroding soil was to be planted, half a billion trees would be required. At $3 each, the average cost of an indigenous plant raised in a planter bag, the bill, including planting, would be about $3‍ ‍billion.
If, however, indigenous plants were raised in large numbers open-ground, or forestry-style, the cost of plants would be closer the cost of high-quality radiata pine seedlings—30‍ ‍cents each. This would place the plant bill closer to $150‍ ‍million, which starts to make regional-scale restoration rather more realistic.
Taupō Native Plant Nursery chose its new nursery site with forestry-style methods in mind, general manager Philip Smith seeing open-ground production as the only way, ultimately, of meeting the region's burgeoning demand for plants. This made the nursery the perfect partner in a Sustainable Farming Fund project initiated in response to the Mahurangi Action Plan. The project involves the first-ever scientifically designed comparison of the establishment performance plants raised in containers with those raised open-ground.
As predicted, the trial demonstrates that open-ground plants can be established more cost-effectively than those that start their life in containers. But the greater challenge was always going to be to convince decision-makers to consider the little-known open-ground alternative. One such regional council decision-maker even attempted to stymie the project, adamant that indigenous species couldn't be raised open-ground, ignorant of the fact that the Forest Research Institute had already successfully raised large numbers had been by that method in the 1960s and in the 1980s.
On Thursday 22 March, the Auckland Council and Mahurangi Action are running a bus from Warkworth to the open-ground nursery in Glenbrook for the first part of a two-day field day. Invitees will include council policy-makers, local farmers and others with an interest in either large-scale restoration with indigenous species, or in sustainable indigenous forestry. There, indigenous plants will be seen in open-ground beds nearing readiness for transplanting, bare-rooted, to their allotted growing sites.
The following day the field day moves back to the Mahurangi catchment, to Sandspit Road, where that first-ever comparison of open-ground and container-raised plants is approaching its fourth year. The trial site is a tree scientist's dream. Contrasting with sites scrimped from pieces of otherwise unvalued ground, the Sandspit site is a broad, gently sloping riparian margin. Size, or more particularly width, matters when it comes to trial sites. Most riparian margins less than optimal because, being narrow, the edge effect can overwhelm genuine differences between the plants being trialled. The site's owner, Shelley Trotter, as well as contributing trial space and the cost of the plants, was happy to see an area planted that would otherwise have only provided a narrow stretch of grazing of marginal value.
Aside from its physical attributes, the site's location is almost uniquely accessible, being immediately beside Sandspit Road. It also neighbours the Parsley Pot Café, making those premises the ideal point for a leisurely 9am start for the second of the two field days.
While they will mainly interest people with an interest see more cost-effective means of establishing indigenous plants, the field days should appeal to students of change, or resistance to it. A reasonable reaction to the suggestion that a practice could be improved on is the assumption that if a better way existed, it would have long-since prevailed. But the circular logic employed can be a barrier to understanding why, in this case, open-ground plants predominate in exotic forestry nurseries but are confined, until Glenbrook, to only to indigenous plant nurseries—one in the North Island, one in the South. When indigenous forestry was first contemplated in Aotearoa, by the New Zealand Forest Service in the 1960s, the starting point was the nursery methods used for exotic species. In particular it was the method developed by the Forest Research Institute for eucalypts, which were 'touchier' than radiata pine. But the method was also found to produce better quality radiata pine seedlings, so became the gold standard for forestry nurseries. With some modification, the method was found to be successful for most indigenous species, an exception be kauri. The principle modification required for many indigenous species is that whereas the seed of radiata pine evolved to strike well from seed on open ground—such as exists following a fire or slip—many indigenous seedlings initially require a quite sheltered environment. Notable exceptions are mānuka and tōtara, which romp away even in moderately grazed pastures.
Large numbers of indigenous plants were raised by the Forest Research Institute head nurseryman, Jaap van Dorsser, and all might have been plain sailing had political ideology not got in the way. Privatisation of the forest service led to work on indigenous species being summarily curtailed. Meantime, the demand for indigenous plants for landscaping and restoration purposes was beginning to grow, coinciding with the adoption of planter bag methods that were then becoming popular with nurseries supplying plants to hobby gardeners with less and less patience for growing plants from seed.
Some 18 years of studies of the Mahurangi's benthic communities have revealed a harbour with an elevated sediment accumulation rate—hence the Mahurangi Action Plan. Minimising sediment generation requires, above all else, that grazing animals be excluded from riparian margins. This can take the form of riparian fencing and planting, or a change in land use. Optimally, restoration planting of riparian margins should be with indigenous species, both to increase biodiversity but also to enhance landscape values. Where the surrounding land is of marginal grazing value, retiring livestock in favour of forestry or some other tree or vine crop will make a greater contribution to soil conservation. Again, optimally, indigenous species would better-contribute to biodiversity, than the radiata pine usually planted. At container-raised rates, large-scale indigenous forestry is prohibitively expensive to establish. But raised open-ground at more realistic prices, a number of landholders whose motivation for acquiring a Mahurangi property is lifestyle and legacy, rather than beef production, are likely retire some of the more erodible land in the catchment.
The other strong driver of land use change is the suite of district plan rules that allow the subdivision of rural land in exchange for restoration planting. Just Mahurangi's share of the half billion trees the region needs is 10‍ ‍million plants. Given the harbour's infamously muddy tendencies, this figure should possibly be doubled—say $60‍ ‍million at container prices; $6‍ ‍million at radiata pine prices.
Between all the stakeholders who have an interest in seeing the cost of indigenous plants coming down, it is likely that seats will fill rapidly for the bus to the Glenbrook field day, on 22 March.
And it is free.