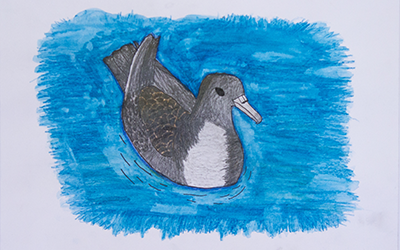 The Coastal Heritage Art Competition was launched in January of this year as a pilot programme, with the involvement of three primary schools in the immediate Mahurangi region: Warkworth Primary School, Snells Beach School and Horizon School. In 2021, the competition will be open to all year 4, 5 and 6 school children in the wider Mahurangi region, and from 2022 the competition will be open to all young people who are attending school.
chart's goal is to foster young artists' creativity, particularly through engagement with the unique maritime environment that is the Mahurangi. The competition was inspired in part by an annual competition sponsored by the National Galleries of Scotland and available to all school-aged children in Scotland. National Galleries of Scotland is aware of the Mahurangi initiative and has been very supportive…
chart is a project of Mahurangi Action and is sponsored by the New Zealand Maritime Museum, Toitoi Media, Auckland City Council, via its libraries, and National Art Supplies.
Organisers Kelsay Grovehills, Mary Brake, and Sarah Ransom were delighted and impressed that in spite of the covid-19-disruption to school life this year, each of the three primary schools persevered with the pilot project and on 14 October, judges selected the project's first winners, now on display in chart's online gallery.
chart is looking forward to becoming a significant annual art event. It is an opportunity for young artists to be able to showcase their talent and for the community to celebrate Mahurangi maritime heritage.