Donald's depraved indifference indiminishable at
100 000

/day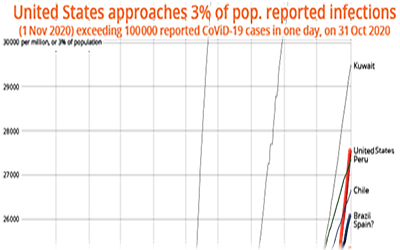 Ahead of itself, but by less than two months, the Mahurangi Magazine, 5 July, predicted:
The depraved indifference of Donald Trump means that, come 5 September when New Zealanders begin flocking to the polls for 13 days of early voting, it will be against a backdrop of American people being infected at rates of about  100 000 per day.
In the event, it wasn't until 31 October that the United States plumbed those depths, reporting 101 273 infections in one day, in its deadly, accelerating descent into full-basket-case territory. Even India, with its more than four times larger population didn't hit 100 000 per day. Bahrain, Kuwait, and Qatar are possibly the only countries to have higher reported infection rates, but the two-thirds under-reporting in the United States probably puts that once-great nation uncomfortably in the lead, in the covid-19 pariah-state stakes.
Another grim milestone that is set to be reached, before mailed-in vote counting is done, when reported infection rates in the United States will likely reach 3% of population. New Zealand's vastly more reliably reported infection rate, meantime, is less than 0.04%0.0389%, or a slither north of one seventieth of the reported United States rate. Small wonder the odd name-brand provocateur has been unhinged, by the example of a government pursuing a half-ways plausible plan. That Aotearoa has resoundingly re-elected a Labour-led government is much-needed vindication for representative democracy, brought increasingly shamelessly and relentlessly into disrepute by populist demagogues worldwide. Wonderfully, it appears that its leader recognises that a failure to continuously strive to maintain representative democracy fit-for-purpose had left the door wide open to populist demagoguery.
The reforms recommended in 2012, it has been stated, will now likely be implemented, 10 years on, ahead of the 2023 election. Given the cravenly timorous character of the reforms recommended, this is a disgracefully prolonged exercise, beginning, as it did, with a 2008 National Party election campaign promise. When making its recommendations, the Electoral Commission, alluded to a four-year parliamentary term, but only in the context of absence of any need for its recommendations to be subjected to a referendum. Currently, a four-year term and implementing the 2012 recommendations, and electoral finance law reform are being spoken in the same breath, in respect to the newly signed Green and Labour parties' agreement. The flaw in such conflation is that it lumps two pro-democracy initiatives with one anti-democracy one. A four-year term is a 25% reduction in representative democracy, from a three-year-term, and 25% less democracy doesn't equate to 25% less can-kicking—while the rationale for its promotion is more than obvious, proof that longer terms of office equate to greater legislative efficiency is never proffered. But even if such proof could be found, diminishing representative democracy is a crude way to achieve that goal, and counterproductive to the goal of increasing democratic engagement.
The four-year electoral cycle is inherently disenfranchising of youth. Just miss voting in one election, at age 17 but for the rounding error, and that potential voter will be near-as-dammit 22 before first being enfranchised. Certainly, the voting age should be lowered to 16, but, with a four-year term, only a quarter of 16-year-olds would ever enjoy that privilege. Rather than hanker to stretch it out to four years between election circuses, elections need to be re-imagined. With Europe's epic failure to eliminate covid-19 and, utterly predictably, experiencing exponential infection rates, Estonian school children are faring far better than their pandemic-besieged cohort elsewhere. Estonians of all ages have long been benefiting from their county's early embrace of e-governance:
Estonia has been building out its e-government since the mid-90s, not long after declaring independence from the Soviet Union.
Was Aotearoa to get alongside Estonia and take its innovative twin-electoral-roll mmpmixed-member proportional system online, layer with proportional representation, and add in direct and deliberative democracy, citizens' involvement could be made continuous. The second a person turned 16, they could vote whenever exercised so to do, early and often, and have it kick in each and every Democracy Day, into crabbed age.
If Aotearoa had fully embraced Estonia's offer of partnership, deploying a wearable Bluetooth tracing device would have been a doddle, and New Zealanders could have been congregating in unlimited numbers without events risking becoming ground-zero for the next community outbreak. As it is, the 2021 Mahurangi Regatta prize-giving dance is being skipped, but with every prospect of being fulsomely reinstated in 2022. Encouraging hundreds to cram into a marquee to dance and sing with abandon is one thing when it is known exactly who the revellers are. In contrast, the Te Muri Crossing charity cocktail party on 21 November, aside from involving less physicality, will involve a maximum of 200 people, every last one of whom will be registered and immediately traceable. Although the feedback from ticket-buyers has been wildly enthusiastic, sales, it has to be said, are not yet approaching half the number that can be comfortably catered for. However, the greater concern is that people arriving on the day, on Saturday 21 November, without tickets, may face being turned away, the 200-limit having been reached—if registrations remotely mirror the shape of advanced voting in Aotearoa this year.
Anytime-voting is just one measure with the potential to de-circus-ify representative democracy. Without millions being spent on polling, voters' real-time response to political parties and candidates would be immediately visible. Politicians and parties couldn't rely on a mendacity-marathon, every three or four years, but would be evaluated continuously on the quality of their policy decisions…
This article is a work in progress; please bear with…
Te Muri Crossing charity cocktail party
Event Te Muri Crossing charity cocktail party
Guest of honour Distinguished Professor Sir Peter Gluckman
Date 21 November 3–6 pm
Venue Tu Ngutu Villa
Address 106 Ngārewa Drive, Mahurangi West
Put Te Muri Crossing high tea in your own calendar