Better-not-bigger on beauteous display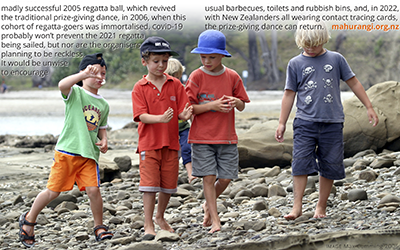 Mahurangi Regatta's better-not-bigger mantra is intoned in the full knowledge that with better comes bigger. The Mahurangi Regatta is so sublimely and uniquely attractive, its growth is entirely inevitable.
Mahurangi Action, as the 1977 revivalist of this at-least 163-year-old regatta, knows that to fail to accommodate the growth of the event is to not only risk losing what makes it marvellous, but is also to court disaster. This year, with minds sharpened by the ever-present threat of covid-19 community spread, Mahurangi Action organisers elected to address the clear and present potential for tragedy posed by extreme congestion of the gravel, one-way road to Scotts Landing proper. A road closure doesn't come cheap, even the "soft" road closure that was trialled, Saturday before last. Auckland Transport could not have been more responsive, and with a year to design an even better plan for the 2022 Mahurangi Regatta, it is probable that some of the measures, such as clearer year-round indications of where parking is inappropriate, can be included.
Few of the advances made to manage the congestion at Scotts Landing would have been possible, without a substantial Mahurangi Regatta sponsor. Sponsorship, in the past, was small scale and short term. From day one, Teak Construction's offer was for an initial three-plus-three-plus-three-years, for cash and in-kind resourcing. Scotts Landing locals, by now, will be aware of how many employees are involved in the day it takes to erect the stage—both bigger and higher this year—string the lights—all the way the landing and position and screen the toilets. All that, and the toilet and wheelie-bin hire comes out of the in-kind component. Hire of the barbecues and marquee, and, usually, the jazz orchestra, is paid for by Mahurangi Action from the cash it receives from the sponsor and Auckland Council's regional events fund.
In addition to the larger and high stage, a higher sided marquee was hired, and reoriented, and better lighting provided beyond it, all with view to reducing the proclivity for crowding as close to the West City Jazz Orchestra musicians as possible to dance.