One billion trees and
bugger the science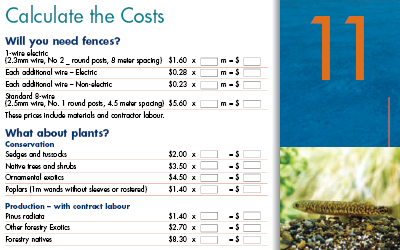 In 2004, $3 million over 5 years sounded like all Mahurangi's Christmases had come at once.
But a back-of-a-seed-packet calculation strongly suggested that the $3 million the former Auckland Regional Council had budgeted would barely touch the sides, when it came time to restore the watershed.
In the rush to see the first fences go up and the first happy bands of volunteers planting trees, the project's political masters were reluctant to quantify the extent of the challenge of meaningfully reducing sediment generation.
Early advice received from Mahurangi son, soil conservator, council planner, and writer, the sage Mike Vine, on hearing about the five-year plan was to think long term. In respect to a similar challenge, the nitrification of the Rotorua Lakes, Mike said:
We've been at this for 30 years, and realistically, we are looking at at least another 30.
The then fresh-off-the-press Clean Streams: A Guide to Managing Waterways on Auckland Farms handbook produced by Fonterra in partnership with the Auckland Regional Council, included a worksheet to assist in costing a riparian fencing and planting project. Radiata pine was one of optional species for which the cost of plants was provided, at an instructive one sixteenth the cost indigenous species.
The quest, to understand why an exotic plant was so much cheaper than those of indigenous species, began. And it led to the first ever scientifically designed and supervised trials comparing the establishment performance of indigenous plants raised by forestry, open-ground nursery methods, compared with the at least five times more expensive container methods with which most New Zealanders are familiar. The trials disproved one of the main misapprehensions about raising indigenous plants by the considerably more economic forestry methods. Statistically, the forestry-style plants, which are bare-rooted as they a lifted from the open-ground growing beds, establish as well as those grown expensively in containers.
With protection of riparian margins and other highly erodible land in the Mahurangi watershed calling for some six million shrubs and trees, the difference in plant cost is nominally between $8.3 million for forestry-style methods and $49 million. But given the hammering that New Zealand biodiversity took during deforestation, it is unconscionable that such plantings, in the main, be other than indigenous. This is where Dr David Bergin and his forestry nurseryman mentor Jaap van Dorsser came in, and the trials to demonstrate that qualms about indigenous species somehow being inherently unsuited to forestry nursery methods were unfounded. When the writing was the wall for the end of old-growth indigenous forestry on Crown land, Jaap van Dorsser, as the head Forest Research Institute nurseryman, was told by his director, E Harry Bunn, they needed to:
…learn how to grow the bugger.
Jaap's starting point was the method he had developed to grow eucalypts, which were more demanding than radiata pine. The method produced superior seedlings, resulting it then becoming the standard method for radiata pine. The process began with drilling seed directly into open-ground nursery beds. This was entirely suitable for pioneer species such as radiata pine, mānuka and tōtara that are evolved to colonise bare soil. Many indigenous species, however, such as kauri and pōhutukawa, need shaded conditions, or at least niches, to establish before becoming sufficiently hardy to survive in broad sunlight and wind. Jaap's solution was to introduce an intermediate seedling-tray stage, and tens of thousands of indigenous plants were produced, from the late 1950s, by these modified forestry methods.
Serendipitously, when it came to sourcing plants for establishment trials, Taupō Native Plant Nursery was contemplating a return to its roots, as a Department of Lands and Surveys open-ground nursery for Waikato River hydro schemes. The burgeoning demand for indigenous plants in the Auckland region had manager Philip Smith determine that only by switching back to at-scale, forestry methods could nursery hope to keep pace. This was ideal from two standpoints: Firstly, for trial robustness the plants needed to originate from the same seed source and seeding. Because Taupō Native Plant Nursery was equipped to produce open-ground and container raised plants, this presented no difficulty. Secondly, it was always recognised that proving comparable establishment performance was one thing, but unless a large commercial nursery was prepared to routinely offer open-ground plants, all the science in the world would likely be for nought.
Two significant sites were planted. The first was in the Mahurangi watershed, in 2008, and the second was in the Weiti River watershed, immediately following, in the same planting season. Then, in 2009, with the word spreading, a 4-hectare trial site was planted in the Lake Taupō watershed, absorbing 10 000 plants.
The trials, which involved about 68 000 measurements physically taken, proved that there was no statistical difference in the establishment performance between the open-ground and  pb3-sized container-raised plants, one of two types of container-raised plants trialled. The other container type, Hillson-sized root-trainers, performed relatively poorly, reflecting the much smaller plants, which in turn reflected the amount of canopy space available for each plant. Canopy is a plant's engine room. The greater the canopy area the more photosynthesis can take place—sunlight and carbon dioxide being a plant's fuel.
Because the regional council was providing the bulk of the funding for planting in the Mahurangi watershed, it was imagined the body would be keen to see the project succeed and to ensure that its money—the regional ratepayers' money—was more effectively used. But even as Mahurangi Action was applying the Sustainable Farming Fund for a major grant, a council officer attempted to scotch the application, claiming the indigenous plants couldn't be raised by open-ground methods. Although this opinion was confronted and disabused, by none less than van Dorsser himself, the regional council subsequently was reluctant to mention, much less champion, the option, to its funding applicants. Nor did this change when the regional council was subsumed by the new Auckland Council, when it was formed, in 2010. Council officers were nervous of being perceived to favour one commercial nursery over another. The argument that there was nothing to stop nurseries other than Taupō Native Plant Nursery competing to provide open-ground plants was met with blank stares.
In a perfect world, or even an actual, neoliberal one, it might be imagined that open-ground plants, at scale, at between a tenth and a fifth of the cost, would quickly replace the costlier product for much of the market. That this has not happened is a product of familiarity and incentive. Nurseries have no collective incentive to lower the cost of plants, and the costs of tooling up for open-ground production are not trivial. The same applies to contract planters who typically advise project organisers on the purchasing decisions.
Then, seemingly out of nowhere, Philip Smith announced that the company had abandoned its goal of gearing up the production of open-ground plants. The inference taken was that, on reflection, the company considered container-raised plants to be inherently more profitable, in an industry already featuring notoriously low profit margins. Then the other shoe dropped with the news that, on 30 April 2018, Taupō Native Plant Nursery had been placed in receivership.
Meantime, with the antediluvian decision made to proceed with the construction of the Pūhoi–Warkworth motorway, a major new sedimentation threat materialised. Involving the moving of eight million cubic metres of earth and rock, it is unarguably the greatest risk to the Mahurangi watershed since deforestation. While the attenuation measures are possibly entirely robust, the thresholds they are design to are finite. Extreme rainfall events, above these thresholds, could set the harbour's restoration back to 2004, or much earlier.
But with the Pūhoi–Warkworth motorway project, also came opportunity. Motorway and highway construction projects are famously big customers for indigenous plants. Convince New Zealand Transport Agency to use or trial open-ground plants and huge savings would potentially accrue. Or conversely, road-building projects could leave a larger positive legacy, both of biodiversity, and sediment attenuation. Mahurangi Action successfully had Designation Condition 36c viii imposed:
Consideration of the suitability of sourcing planting raised via the open-ground forestry method, including availability and cost-effectiveness.
But road-builders, it appears, are no bolder, or better informed, than local bodies, when it comes to bucking the status quo. The project's Landscape Outcomes report baldly states:
Condition D36A and the ULDF suggests considering open-ground forestry as a methodology for plant sourcing. This has been considered, however it has not been adopted. Nursery stock is considered better for construction coordination with the timing of landscape works, and nursery stock is provided with a guaranteed quality, and can provide the sizes and number required at a time. The open-ground forestry method does not provide certainty of when plants will be available to replant or how fast they will grow, and plants grown in the ground are harder to successfully move due to root sensitivity. Specifically, canopy species do not typically thrive after root disturbances. The open-ground forestry methodology requires large land areas to grow the plants; due to the large volume of plants needed, this would be inefficient.
A more poorly-informed paragraph would be difficult to craft, not least of all for the incurious claim that the open-ground nursery methodology responsible for New Zealand's historic place as a world-leader in planted forestry is 'inefficient' because of the land needed for forestry nurseries. Had the writer stuck to the facts, including what impact the departure of one of New Zealand's larger nurseries moving out of open-ground production might have on the Pūhoi–Warkworth motorway project, the dismissive, anything-for-a-quiet-life response to the condition might have begun to appear credible.
The Pūhoi–Warkworth motorway may well be an opportunity lost, not least of all for the project to be seen to be innovative, or at the very least aware of the enormous risk it poses to the harbour as the peak earthmoving phase approaches and thus its greatest exposure to extreme rainfall events. However, it is still useful to speculate as to how the project could have become a nursery-methods game changer that led to vastly more economic establishment of indigenous species at scale, to benefit future projects. Not that the New Zealand Transport Agency should be building many more motorways, but it has an urgent need to learn how to build fossil-fuel-free infrastructure, like this is a tomorrow. Northland, for example, has an urgent need for 368 kilometres of rail-with-trail, to facilitate, alongside the necessity of electrification, a tourism model not predicated on diesel-guzzling motorhomes.
And then there's the government's One Billion Trees programme. Mostly thanks to the New Zealand Forest Service, by the mid-1980s almost 1.2 million hectares of exotic indigenous forestry had been established. At today's initial planting densities, that is a nominal 0.9 billion trees, or about 0.45 billion at harvest. Ironically, in 1987, in its first breakneck embrace of neoliberalism, from which the party has neither resiled from nor apologised for since, Labour, axed the Forest Service. Not to put too fine a point on it, one billion trees is a big deal, particularly given how much institutional knowledge and momentum has been lost, not least of all in regard to the work begun by Jaap van Dorsser.
While open-ground nursery methods have a role to play, nor is this to suggest that open-ground-raised plants are preferable in every circumstance. Kauri, for example, struggles to produce the fibrous root mass readily achieved with, for example, mānuka. And open-ground-raised mānuka, if planted out too late in the season—and it is consequently subjected to soil moisture levels that are too low—can fail spectacularly. Open-ground harakekeNew Zealand flax, in comparison, is almost bomb-proof, and the species has enormous potential as a coloniser, with its well-recognised ability to attract seed-dispersing birds, to power further biodiversity.
If even one indigenous revegetation species was successfully produced and planted at pine-seedling prices, this would significantly lower the high cost of establishing 'natives' for conservation and production purposes. Because while most imagine that the best use for indigenous species is as long-term carbon sinks of untouched forest, more carbon can be stored for longer if the timber is harvested after it passes its peak growth phase, and it is locked up in high quality manufactured products with a prodigious life expectancy—think antique furniture.
But even radiata pine, harvested within decades, and in sufficiently large numbers, could help take the sting out of fossil-fuel emissions in the short term. With a government remotely cognisant of the scale of climate action required, 2013 would made the perfect year for Aotearoa to break bold with a Royal Commission on Forestry, on the centennial of the one that made the motu a world leader in planted forestry. In fact, because joined-up thinking is now so urgently required, that should be a Royal Commission on Climate Action, with a sub-commission addressing land use. Every scrap of temporarily idle land, potentially, could be sequestering carbon dioxide, and be self-funding at the very minimum.
Although is yet to sink in with the Labour Party's finance minister, Jeremy Grantham has long since realised that neoliberalism is the mortal enemy of humanity:
We face a form of capitalism that has hardened its focus to short-term profit maximization with little or no apparent interest in social good just as its power to influence government and its own fate has grown so strong that only the biggest, most powerful corporations and the very richest individuals have any real say in government.
As Grantham states, civilisation is good at responding to threats it perceives as urgent, such as war, but is found utterly wanting when needed to fight the war against the as-yet slow-burning climate catastrophe. By the time the slow burn becomes fast-burning, it will be too late for other than the very rich and invincibly armed.
Time to restore science-based solutions, such forestry-scale nurseries for indigenous.
Technical Article No. 5.3 Choice of Nursery Method – Container or Open-Ground, Planting and Managing Native Trees, Tāne's Tree Trust
Technical Article No. 5.4 Establishment Performance of Native Shrubs – A Comparison of Container and Open-Ground Plants, Planting and Managing Native Trees, Tāne's Tree Trust