Sunday Sunset Boulevard town-hall matinee idyll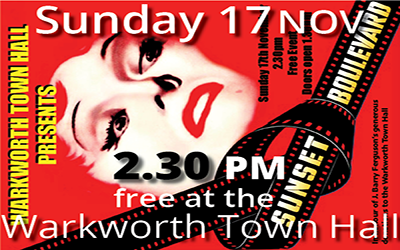 In a former life, J Barry Ferguson, amongst many things, was:
…the garden curator of Greenacre Park on 51st Street Manhattan, a private 'vest-pocket' park, open to everyone and owned by the Rockefeller Greenacre Foundation.
Having been florist and event organiser to New York's rich and famous, having spent a lifetime getting things done, and having retired to Mahurangi West, in spirit in 2000, Barry remains a man on a mission—impatient, maybe; persistent, absolutely.
Barry believes in putting his money where his mouth is, and first the Mahurangi West community, and then, since moving to Warkworth, the wider Mahurangi, is benefiting from his ideas, and his support for the ideas of others. The now delivered Paul Deacon depiction hmss Buffalo off Spar Station Cove is a sublime example of the latter generous instinct. Immediately recognising the need for a first pictorial record of Auckland region's first European settlement, Barry was second to sign on the commissioning syndicate, then he negotiated provisional agreement for the work to hang pride-of-place in the Warkworth Hotel under thorough restoration, and the period-appropriate framing of the work, by the Gow Langsford Gallery.
Another example is the audiovisual system installed in the Warkworth Town Hall, funded by Barry and the Department of Internal Affairs. In fairness to department officers, theirs was the first offer for the equipment needed to make the Warkworth Town Hall Talks sustainable—hiring a suitably large screen monthly was a logistical and financial nightmare for Mahurangi Action. But Barry happily admitted to an ulterior motive: a Warkworth Town Hall film society where classic films could be enjoyed in potentially pleasant and intelligent company.
Sunday's 2.30 pm matinee screening of Sunset Boulevard is the nascent film society's first outing, but first the audio equipment needed boosting by the subwoofer left out the original installation on account of cost. One possibility was to hold the first screening as a fundraiser, and use a hired 'sub', but Barry, in his typical disdain for temporary measures, announced he would fund what was needed. Auckland Council, keen to see the Warkworth Town Hall used by the community for films, and in appreciation of Barry's charitable support for the venue, has paid for the film hire and afternoon tea so that the event could be advertised as free.
Since moving from the riverside at Rivendell Place to The Oaks, Barry has contended that Mahurangi's tidehead town needs a mayor, to respond, for example the need for beds surrounding the Baxter–Neville–Queen streets roundabout to be weeded—work Barry would have quickly done himself of an early morning, before age curtailed his ability to take direct action. But, as important as such things are to a details person, Barry is also big-picture thinker and is exercised to stimulate a sparklingly visionary approach to the town's relationship with its Mahurangi River and forest backdrop, particularly the publicly owned property holdings on either side of Baxter Street tipped for redevelopment.
Barry has already cast his vote for the first Mayor of Mahurangi. The Mahurangi Magazine is hosting the online voting and a polling both will be operating on Sunday before the Sunset Boulevard and during the afternoon tea after. Of to current two front runners, but with only a handful of votes cast, returning officer and Mahurangi Magazine publisher Sarah Ransom reports that Ayla Walker is leading the four-strong field. The writer is also a candidate, but only because he believed he couldn't ask Ayla Walker to accept nomination for something he wasn't prepared to accept nomination for himselfas vehemently as he believes that what the world doesn't need more of is elderly white male representatives.
Pre-provisional results of the first Mayor of Mahurangi election will be announced at 7 am on 17 December, immediately ahead of the stv bicentennial breakfast in the Warkworth Town Hall. Provisional results will be published at 7 pm as the polls close. Until then, voters are encouraged to vote early and often, seriously. While only a voter's last ballot will be counted, there are four entirely legitimate reasons for being able to update a vote. The first is that voters have busy lives and should be entitled to vote, up until the close of polls, when they are motived to do so. But that means they may find they wish to change their vote, for whatever reason, private to themselves. Also, with online voting, arbitrary closing dates for nominations can be dispensed with, which may result in a voter reviewing their earlier choice when additional candidates offer themselves. The fourth reason is the reason the Estonians can update their vote, if the voter has even the vaguest concern that somebody else might have appropriated their identity.
Serendipity, of course, dictated preference voting's bicentennial be celebrated with more than a mock election. It will possibly be some time before local government is rebuilt to the point where locals can walk into their town hall for a clinic with a legislatively recognised mayor. Meantime, community-elected office, coupled with persistence, could well prove to be effective in practice, and a magnificently realisedall be the pun, monumentally laboured democratic idyll.
Put 17 November Sunset Boulevard screening in your calendar…Put 17 December STV Centennial Breakfast in your calendar…

Voting for the next Mayor of Mahurangi is always open, provided at least one nomination has been received.
Nominate someone as Mayor of Mahurangi