Regatta 2020 lost, found and thanked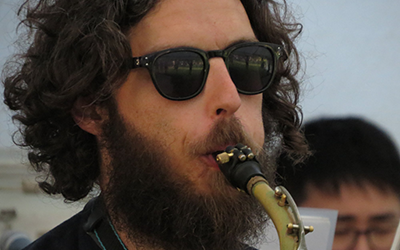 Effusive thanks have been lavishing the organisers, sponsors, and volunteers from even before Saturday's Mahurangi Regatta began, but also in its immediate aftermath:
Such an awesome event—huge congrats to everyone involved…
The text message was from a Scotts Landing prize-giving-and-dance reveller, who'd shed a pair of prescription tortoise-shell Bailey Nelson sunglasses. Although a few items were found, sadly, they didn't include sunglasses:
cushion
girl's sneakers
grey hoodie
floral scarf
fringed towel
striped towel
In respect to prescription sunglasses, this list bears an uncanny resemblance to last year's regatta's lost-and-found, two items of which only were claimed. It is to be hoped that, this year, the prescription sunglasses in particular are reported to either Mahurangi Cruising Club or online via the Mahurangi Magazine, but nor would the only-lightly-worn girl's sneakers have come cheap.
Update Further items reported lost—please use the form below if you can help repatriate these jackets, which went missing, possibly together:
black Kathmandu jacket, and
Musto sailing jacket
child's wetsuit, black
Everybody from passive spectator to skipper of the most magnificent classic wooden yacht deserves thanks and credit for Saturday's sublime Mahurangi Regatta. Chronologically, credit begins with the families that lived around the harbour's shoreline in the 1800s. Joseph Gard, who farmed at Duck Creek, five nautical miles upstream, recorded an early event:
The first Mahurangi Regatta is not remembered, but Joseph Gard noted in his diary that he saw the event in progress on New Year's Day, 1858, while passing up-river on his way home from Auckland.
A complete record of the regattas has not been discovered, and the event seems to have held, somewhat sporadically until lapsing during World War II. Since its revival by Mahurangi Actionfounded in 1974 as Friends of the Mahurangi in 1977, the Mahurangi Regatta has become a significant regional event. Sandspit Yacht Club kindly served as race organiser until 1990, when the newly minted Mahurangi Cruising Club took over that role. In 2004, the need to celebrate Warkworth's sesquicentennial prompted the first and last Mahurangi Regatta Ball, the success of which saw calls it to be an annual event. The ball's organisers were less sanguine, but the then Auckland Regional Council saw an opportunity for a follow-up event to launch the first phase of the Mahurangi Action Plan.
That event, styled the Mahurangi Regatta Prize Giving and Dance, was to be held at Sullivans Bay, until a forecast for strong easterly weather chased it back to Scotts Landing, where it has been held ever since, barring one post-tropical cyclone direct hit, and an earlier year where the threat of a financial hit from marginal weather precluded the risk of hiring a marquee, swing band and mobilising a volunteer catering team. Family and friends were leant on heavily when sales of gourmet burgers and a cash bar were relied upon to close the funding gap. The model was unsustainable, but nor was plying dehydrated sailors with alcohol simpatico with the imperative to steer an event held in an open public park towards the family friendly.
Now named West City Jazz Orchestra, the Prohibition Big Band saved the bacon of the Mahurangi Regatta Ball organisers, playing for a fraction of the cost of the established swing bands of that decade. Despite being paid a much-reduced community rate for their evening at Mahurangi, the prize-giving dance is the musician's much anticipated favourite annual gig. The biggest boost for the event, and its organisers and volunteers, was the out-of-the-blue offer by Teak Construction of a three-plus-three-plus-three-year sponsorship partnership. Since then, it must be said, Mahurangi Action Incorporated spends considerably less of its time technically insolvent. Teak Construction is a textbook sponsor, working hands-on closely with the community and roping in community-minded colleagues in the building trade, notably Citywide Electrical, whose tasteful lighting is the perfect foil for a harbour brimming with the riding lights of a thousand craft.
For the tiny Mahurangi Harbour communities of Mahurangi West and Scotts Landing to host one of the world's most-loved local and classic wooden boat regattas is a mammoth task, but not an unreasonable one. This year, for example, 10 of the visiting yacht and boating clubs have kicked in financially, and another 4 are likely to, if remindedmakes note to self, and also to persist in finding a treasurer!. While the total amount contributed by the clubs is somewhat puny given the more than $38 000 organisers' total budget, it does tick a large box when applying the Auckland Council's regional events fund, which typically provides $4000. But nor is that all Auckland Council provides. In recognition that it is the Mahurangi Harbour's community's only annual event, and that it is non-commercial and welcomes all regional park visitors, slightly more than $10 000 of consent and site fees are waived.
Ultimately, though, thanks are due to two parties, historic and present: The fathers of the Auckland Regional Parks network; and the valiant team of Mahurangi Regatta volunteers. Frederick William Osborn Jones, the Auckland region's first regional planner and his accomplice Judge Arnold Turner set in train a 50-year programme of regional park acquisitions—one every other year, on average. The contemporary regional park ranger guardians of that heritage, and their voluntary sidekicks, could not be more professional and constructive in helping to plan and execute the regatta. Those of the volunteer team who have not shirked a regatta in 43 years are perhaps more to be pitied than blamed. Be that as it may, it is the new blood that must be celebrated and recognised, as the future of the Mahurangi Regatta.
Just one of principal regatta sponsor Teak Construction's innovations was to reintroduce a constructive post-regatta get-together. Tonight's debrief is at the sponsor's managing director and his family's home at Mahurangi West, but with those unable to attend encouraged to put their oar in, by phone, text or, in this post-2020 example, email:
My feedback: Well-organised, went very smoothly and great certificates. Put me down for next year!
And this from one of the team who, between them, wrote the recipient's names on more than 150 certificates.

Regatta crew debrief decisions Thursday evening's Mahurangi Regatta shoreside events crew debrief made the following recommendations—in regatta-run-list order:
On the Friday, lay more substantial fairway buoys and patrol, particularly at dusk and after dark, with the support of the Classic Yacht Association, organisers of the classic launch parade. Teak Construction will cast additional mooring blocks, with rope handles for quicker and safer handling, from surplus concrete. Subsequently, a Mahurangi Regatta enthusiast has offered to assist with the buoy laying and to patrol the fairway. The new regime will be communicated to the visiting yacht and boating clubs.
Augustin sea kayak race commenced earlier—tentatively 10.20

 am

Master of the Mahurangi, >2000-metre rowing race, commenced earlier—tentatively 10.25

 am

Classic launch parade commenced earlier—tentatively 10.00

 am

at Scotts Landing for arrival at Sullivans Bay at ~10.30

 am

classic launch parade laned off from swimming and other water-contact races, and to allow the latter to commence as recently scheduled

from 1977 until relatively recently, the shoreside events began at 10 am, with the dinghy races

, at 11.00

 am

sand-sculpture competition commenced and finished earlier—12.30–1.30

 pm

significantly larger area marked out—particularly the middle section—and with a mallet to be provided
sand-sculpture competition place-getter markers to have square ends pointed, and the judge to be assigned an assistant judge
sand-sculpture competition prizes discontinued—new, attractive certificates more than satisfied
lolly scramble discontinued—litter
tug-of-war boatswain assigned—two of the day's five St John-first-responder-treated injuries were sustained during the tug-of-war
tug-of-war commenced earlier—3.30

 pm

post-regatta pack away volunteers assigned
Scotts Landing Sunday-cleanup boatswain assigned
Generally, a larger than usual Mahurangi Regatta needs to be planned for, given the likely impact of the America's Cup on the 2021 event—possibly double the nominally 150 eggs thrown on Saturday. Otherwise, although not discussed, the earlier starts might suggest that the Mahurangi Regatta crew muster and briefing should start half an hour earlier, at 10.00 am, immediately ahead of when the announcer needs to commence.