Free regatta shuttlebus to
Tu Ngutu Villa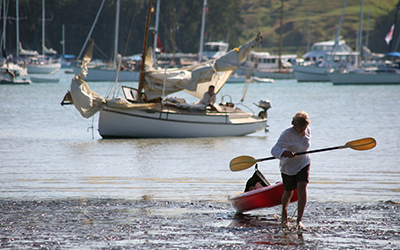 Until Scotts Landing locals came to the rescue in 2019, the free Mahurangi Regatta shuttlebus was driven by Mahurangi West locals. Such was the commitment of one of those sober drivers, Lex Marshall, he would kayak across the harbour to do his shift.
On Saturday, Lex starts the free Te Muri Crossing charity cocktail party shuttlebus run at The Oaks, Warkworth. Resident J Barry Ferguson, who, until 2016, lived at 9 Ngārewa Drive, will likely be first aboard, on his way to support the crossing cause, by gifting copies of his beautiful—perfect Christmas present for lovers of horticulture and Mahurangi—hardcover Flowers are My Passport memoir, and signing at the cocktail party. By the time the 11-seater reaches 106 Ngārewa Drive the first time, to begin shuttling folk from the parking at the end of the road, it may well be full, but Mahurangi West locals who register for it will definitely receive door-to-door service.
Work-in-progress update Published as a work in progress, principally to alert Te Muri Crossing charity cocktail party guests—committed and potential—of the availability of the free shuttlebus service, this notice will probably now not be expanded into an article. However, just to say that the charity cocktail party was a triumph, and will have its own article, or two, given that Distinguished Professor Sir Peter Gluckman's moderately short talk, but possibly longer question period, warrants several articles alone.
Preliminarily, the rough tote of the income from the fundraiser is $13 863.33. Much of the income is pure profit, such as the $4413.33, and counting, from items fully donated to the silent auction. From the balance, some catering and production costs will be deducted, such as the costs of hmss Buffalo prints and framing. Be that as it may, the nett income netted, so to speak, bring the Te Muri Crossing close, if not to, the point of being shovel ready, and major-funding-source ready. But more, a guest and owner of a construction company has undertaken to put a team onto the building the deck of the boardwalk and footbridge, free of charge.
Not to put to fine a point on it, Te Muri Crossing Charity Cocktail Party Triumph will likely be the title of the next article published.

Event Te Muri Crossing charity cocktail party
Guest of honour Distinguished Professor Sir Peter Gluckman
Date 21 November 3–6 pm
Venue Tu Ngutu Villa
Address 106 Ngārewa Drive, Mahurangi West
Put Te Muri Crossing high tea in your own calendar