Sign on the 2024 shoreside Mahurangi Regatta crew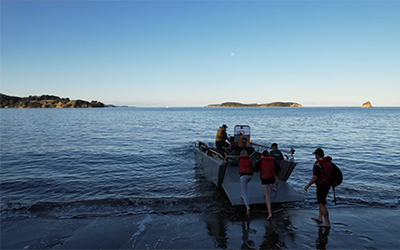 By signing on the shoreside events crew, Mahurangi Regatta lovers help carry forward a tradition dating at least as far back as that first recorded Mahurangi Harbour regatta: New Year's Day 1858.
When Mahurangi Action revived the regatta in 1977, the committee members, most of who had lived through the Great Depression, were determined that it be a good old-fashioned, leave-your-wallet-at-home picnic regatta—they were mindful that parents often struggled, when their children were exposed to the allure of all manner of overpriced fairground food and confection, all the live-long day.
Serendipitously, when the regatta venues of Sullivans Bay and Scotts Landing later opened as regional parkland, the low-key, bring-your-own picnic meshed perfectly with the regional-park ethos. The result is a heaven-on-earth, where rural and metropolitan Aucklanders can live like royalty, on at least one day of the year.
From 2024 onward, the volunteer shoreside-regatta crew will enjoy an even richer experience, virtue of Mahurangi Action's aluminium landing barge J Barry Ferguson joining the fray. Volunteers at Sullivans Bay, for example, will get to go to the prize-giving dance at Scotts Landing—similarly, stalwart free-regatta-shuttlebus drivers get to enjoy the picnic regatta at Sullivans Bay, before or after their sterling regatta-day transformation of Scotts Landing as a public-transport exemplar:
Move away from that mouse
 After clicking the button above, this form takes an eternity to respond, but in all probability
will
indeed dutifully record your kind offer to help! If you fail to receive a response within 24 hours, please chase the shoreside-regatta-crew boatswain: crew@mahurangi.org.nz or
+64 27 462 4872