Regional parks review round-1 feedback deadline extended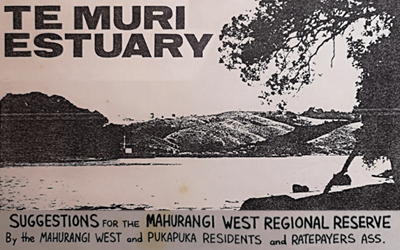 Round one of Auckland Council's 10-year regional parks management plan review began 1 September.
It was to end next Monday afternoon, close of play, but has been extended to 26 October. The 12 October date continued to appear in the discussion paper linked, but has since been updated following a request by the Mahurangi Magazine.
The first round of the regional parks management plan review process is non-statutory, not that that makes it any less important. Having said that, in the similarly two-step 2015–2016 Te Muri management plan variation process, the community's round-one feedback fell on deaf ears. The big change in Auckland Council's default assumption that Te Muri would be accessed by road occurred in the second, formal part of the process. Just how much this had to do with the fact that 101 of the 140 round-one submissions explicitly supported Mahurangi Action's concept of a coastal trail as the principal form of access, as did the vast majority of the nearly 400 received in total, and how much it owed to Auckland Transport advising that adequately upgrading road access, even to the park's western boundary would be heinously expensive, can only be guessed.
In consultative processes such as regional parks management plan reviews, the community seldom has a clear sense of what it is up against, when it seeks to suggest a solution that challenges the status quo. While Aotearoa is indexed only a whisker below its top-14 peers in the participatory-democracy stakes, its weak deliberative-democracy index is largely responsible the country being placed 14th, below Ireland, Italy and Portugal. Deliberative democracy involves a back and forth, and, in an environment that is enquiring, respectful, and trusting, and can readily lead to a consensus that, long-term, avoids an enormous amount of community–council resources otherwise expended in opposition.
Then there is the sheer size of the exercise. The existing regional parks management plan runs a little over 500 pages. But given there were then 23 parks receiving their own section in the document, that is quite modest. If each park had its own plan, as was the case in 1994 when the Mahurangi Regional Park management plan boasted 109 pages, today's 28 regional parks could have generated the greater part of 3000 management-plan pages. The downside of the omnibus approach, however, is that eyes on both sides of the community–council divide can all too readily glaze over. When, after uncountable volunteer hours by dozens of organisations and thousands of people, officer's reports can reflect an almost siege mentality, all last vestiges of faith in participatory democracy are at risk of evaporation.
In 1987, when what was then known as Mahurangi West Regional Reserve was gaining its first management plan, deliberative democracy was being practiced, thanks to the Arnold Turner cmg-chaired citizens advisory group. The Mahurangi West community's visionary Suggestions for the Mahurangi West Regional Reserve won the hearts and minds of the advisory group members, and the planned road bridge across Te Muri Estuary was dead in the water.
The lamentable—not least for New Zealand's aforementioned 14th democracy-index placing—loss of the deliberative-democracy round from subsequent management plan processes, makes providing feedback during this first round all the more imperative:
Regional Parks Management Plan Review Discussion Paper
Provide your own feedback directly to Auckland Council now…
The draft feedback below is a work in progress; please bear with…