Time to pay for that key advice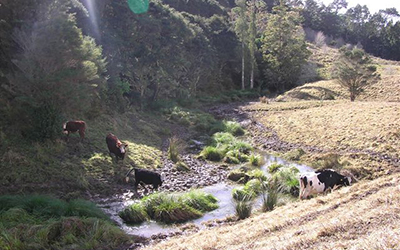 Key advice leading to the open-ground project came from a person with no interest in open-ground methods whatsoever.
It began with a silver-bullet mission: Could harakeke, produced in bulk and planted at every opportunity, provide a nurse crop whereby seed-defecating tūī could do the rest of the job of restoring a rich variety indigenous species? And could a bulk harakeke nursery serve a secondary role of polishing treated wastewater—thereby killing two Mahurangi birds with one stone?
At that point, Rodney District Council's Jo Floyd suggested a trial at the Ōmaha Wastewater Treatment Plant, and in that context, ecologist and nurseryman Rodney Straka mentioned the open-ground methods used in forestry nurseries. So far so good, this all seemed to be pointing in the same direction. But it was then that Chris Ferkins, restoration adviser to the Waitakere City Council, put his oar in. Harakeke is too slow, he said, toetoe is the only indigenous species that will out-compete the weeds in the Auckland Regional—the harakeke study that had seemed so compelling had been carried out on Banks Peninsula. And even with toetoe, Chris warned, the kikuyu would first have to be poisoned.
(Now this summary involves a little journalistic licence; Chris first provided an astringent primer on restoration—wash your mouth out for saying revegetation—planting and the need to achieve canopy closure to thwart those light-loving exotic weeds.)
Then came that key contribution. What you need, Chris said, is to ensure you include the science layer. Chris proceeded to recommend scientist Dr David Bergin, citing in particular the beautifully illustrated and accessible handbooks that he has produced on indigenous species, including on sand-binding dune plants.
It proved to be a match made in heaven, because David Bergin's mentor happened to be Jaap van Dorsser, the Forest Research Institute nurseryman who had adapted open-ground methods to indigenous species, in the 1960s.
A successful application to the Sustainable Farming Fund in 2006 and to the Lake Taupō Protection Trust this year, now means that open-ground methods are being rigorously trialled against the prevailing, and more expensive, container-raised methods.
The irony in all this is that Chris Ferkins has been using his 50% toetoe filler method for seven years without the benefit of scientifically-designed trials. Until now.
It seemed only fair to include Chris' toetoe checkerboard planting pattern in the Mahurangi trials, when the prefect opportunity arose. Which it did, when the surplus of container-raised plants happened to include sufficient toetoe to enable a trial of plantings one nicely uniform site, with and without a toetoe filler.
That left the mere locating of a suitable location. Bren Visser once stated were he prime minister, riparian protection would be his number one priority—but, for the record, he does not want John Key's job. Did Bren know of a suitable site, other than the Telecom New Zealand land beside his beloved Hepburn Creek that was devastated by hard grazing in 2005?—the event that kicked off the meeting at which Rodney Straka uttered the fateful words: open-ground.
He did, an esplanade reserve a little downstream, which had recently been securely fenced off by his neighbour Mike Edwards. The trial area is now marked out and planting will commence on Thursday week.
Time to pay for that key advice.
Update to a blown opportunity The opportunity to create a rich, broad riparian margin was lost because of the inflexibility of the regional council's programme. The owner of this entire panhandle of steep, erosion-prone land bordering this potentially beautiful reach of Hepburn Creek was prepared to retire what little pasture had survived colonisation by gorse and mānuka, and well on its way to indigenous reforestation. The deeply disappointing outcome was a disrespected and frustrated property holder, and hillside helicopter-sprayed with herbicide by the person leasing the grazing.
See also Open-Ground Indigenous Plants Establishment Trials report