Talking Heads community

vhf

land mobile radio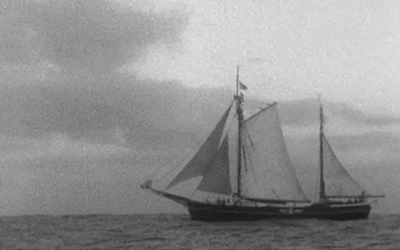 In an ideal world, or even a fractionally less perverse one, the free-regatta-shuttlebus drivers would need to do little more than download an app. Cellular coverage at Scotts Landing would be so comprehensive that the opportunity, for example, for a driver to swing down Charles Street, and pick up a party-ready party from halfway along Young Street, seconds after leaving the paddock parking at Ridge Road could be conveyed by the dispatcher's crisp words emanating from the hands-free:
"Shuttle Two! Party roadside at Young Street—turn in 10's driveway; they'll walk to you.
In reality, delusional faith in market forces means that disparate, cellular service providers are rewarded for feasting on user-dense markets, and communities on harbour peninsulas are left with the coverage scraps—so meagre at Sullivans BayŌtarawao that 'Cell Phone Hill', to which campers would traipse for coverage, entered the script of Outrageous Fortune episodes filmed there.
Because Mahurangi Regatta comes but once a year, any communication solution needs to have utility on the other 364 days, of each. That need, of course, exists, and most conspicuously for community-response purposes. The Mahurangi has good friends. One such friend, an ex-navy, ex-Auckland University chemistry department instrument technician, who collaborated with a nascent Mahurangi local in communicating with the ex-Baltic trader Fri, off Moruroa, 1973. This year, after yet another abortive attempt to deploy ever-beefier uhf handhelds, it was time to ask another favour:
"[Name redacted until statute-of-limitations kick in, in respect to 1973 unauthorised use of spectrum], would some form of repeater work?
Indeed, it would. Employing land-mobile-repeaters, land-mobile-radio systems are routine. They must be professionally designed and licenced, of course, to ensure that one group of users doesn't inadvertently disrupt the communications of another. While they can be uhf- or vhf-based, the latter is far better at penetrating the topography that makes the Mahurangi harbourscape such a delight. The hope is that a friendly, approved radio engineer or radio certifier can be press-ganged to apply for the licence, to operate the repeater.
The catch, with what at first blush would appear to be a no-brainer, is the cost. The cost of a repeater is circa $3000, and, prior to testing, one repeater may not provide sufficient coverage. This would generally put paid to a promising, outside-the-box concept, after a frustrating back and forth between city council and local board, if not central government pursuit of funding. But, again, the Mahurangi has good friends. Support-in-principle for the first, prospective, repeater site, at Mahurangi West, has been obtained. Depending upon yet-to-be-performed coverage mapping, one more such site, at Scotts Landing, might square the circle. Nor does money alone solve all the challenges. Although frequency allocation could be readily licenced for a single day each year, for the Mahurangi Regatta, a year-round allocation would need to be justified by a significant level of usage. One possibility would be for Scotts Landing to regularly exercise the system for community response planning and training. But even that might struggle, even if shared with Mahurangi West community-response activities. However, if the full gamut of Mahurangi Harbour community organisations deployed the network, such as for the first-response fire trailers, and for pest, sediment, and weed control, the frequency allocation conceivably could be comfortably justified. The additional benefit, of course, is that emergency use of the system would become second nature. That may or may not ever prove to be the difference between life and death, but it is certainly not a stretch to imagine that it might.
The first mission is to ascertain likely coverage from one or other of several more obvious locations for a repeater at Scotts Landing, and the willingness of the respective property holders to host them. Fortunately, the preliminary survey can be done with hand-held devices already on hand, or on offer. Depending upon those results, or even regardless, the wider topography could be surveyed, given that synergies will probably prove to exist where one or other Mahurangi West repeater location provides comprehensive coverage of the western side of the Scotts Landing peninsula. Then, the expert coverage mapping could be commissioned, and all the more economically, thanks to locals doing the legwork. Again, a sympathetic approved radio engineer or radio certifier, or, failing that, a highly recommended one, would be a bonus.
Historically, Scotts Landing was the hub of communications for the Mahurangi Harbour community, due to its substantial, deep-water wharf. Not just Scotts Landing and Mahurangi Peninsula people, but those residing at Mahurangi West and Pukapuka met the steamboats there, either to journey to the city, collect supplies, or dispatch produce. The destination was then colloquially known as Mahurangi Heads—Heads used to differentiate Mahurangi Harbour from its tidehead town of Warkworth, then often referred to as Mahurangi, reflecting the name carried by its post office. Steamboat services advertised to and from Mahurangi Heads, typically, were to Scotts Landing, although sometimes these also included Rodmersham, at the heads, east, proper. It would be pleasingly apt if the 'Heads' reclaimed its role as hub of Mahurangi Harbour communications.

Sweet Heads symmetry Released in 1974, madly mainstreamed by Talking Heads 1978–1979#26 on the US Billboard Hot 100, 1979, Al Green's Take Me to the River was written in 1973.

20

th

 century