Grand start to greater Mahurangi coastal path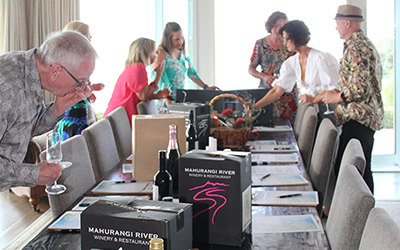 Even Conservative-led England has its England Coast Path. A coastal pathway from Waiwera to Waipū, Whangārei or anywhere, once built, will seem the most obvious, and most marvellously magnificent thing in the world.
Coastal urban Tāmaki Makaurau can mostly be traversed, but much of the route is far from salubrious. The greater of it is length is dominated by residential properties, with little or no walkable esplanade reserve setback.
North of ŌtāneruaHatfields Beach, the coastline is not relentless residential, and greatly more forested. Waiwera has been a congenial gathering place for seven centuries, and while the hot mineral pools are currently in chronic decrepitude, planning is clearly underway to return the town to a radiance not seen since to its heyday of weekend steamboat excursions, overlooked by twin two-storied, Victorian-verandaed hospitality.
Farther northward again, the coastline is nothing short of sublime. Thanks to the heroic vision of Frederick Jones, ably aided by Judge Arnold Turner cmg one thousand contiguous hectares of regional parkland adjoins the coast, spanning the Mahurangi Harbour, almost to Martins Bay. Not only has that coastline cried out to be a coastal path, since the coastal margin of Te Muri was taken under the public works act 48 years ago.
Exploring the coastline is an innate human compulsion, and traversing that explored, a rejuvenating ritual. But where the only means of traversing the coastline is via pathway, with no parallel roadway to diminish the expenditure of physical energy, the satisfaction is unrivalled. In the last four years, political masters of Tāmaki Makaurau might allow countenance a Mahurangi Coastal Trail:
Investigations will be undertaken to provide pedestrian, cycle and potentially horse access between Wenderholm, Mahurangi, Pūhoimacronised u added Village and Te Muri. This may include boat access, land-based routes or a Pūhoi River bridge crossing to form part of a Mahurangi Coastal Trail.
However, nor was there budget allocated to fund such investigations, much less build the coastal path. Because a Te Muri crossing was specifically provided for in the regional parks management plan variation concerning Te Muri, adopted by Auckland Council February 2017, the Mahurangi Coastal Trail Trust elected to begin there, by offering to design, obtain resource consent for, and build the footbridge and boardwalks involved. Sunday's $80-ticket Te Muri Crossing high-tea fundraiser is the second event generously hosted by Tu Ngutu Villa, to raise funds for the design and consenting phase. Some trustees had assumed that the Mahurangi Coastal Trail was included in the $30 million bid for central government funding reported by New Zealand Herald, on 10 May 2021. Be that as it may, it is probably now only a matter of years before the Mahurangi coastline is seen by government and councils as the key to engaging Aucklanders, particularly the younger smarter Aucklanders who totally understand that the further development of facilities to pander to private-light-vehicle access is inherently incompatible with salvaging a survivable climate, not to mention contrary to Auckland Council's own climate action policy.
At present, the operative 2010 Regional Parks Management Plan, since the 2016 Te Muri variation, specifically allows for a private-light-vehicle parking facility to be developed, nearby the terminus of Ngārewa Drive. This has helped fuel a social media campaign opposing the planned Te Muri Crossing. However, as those who have followed progress of the Mahurangi Coastal Trail Trust's work will know, such a parking facility forms no part of its project. Nor has Auckland Council indicated that it is actively planning such a facility. The 2010 regional parks management plan is in the process of being reviewed. Release of the draft of the proposed new plan, on which initial feedback was sought in 2020, is due imminently. If the draft plan perversely adheres to a policy of further providing for private-light-vehicle-centric access, those who consider that such facilities should not be built at Mahurangi West will have the formal opportunity to make submissions. The Mahurangi Magazine would certainly campaign against the development of such facilities. Whether Mahurangi Action or the Mahurangi Coastal Trail Trust did likewise would be up to the membership of the former, and the trustees of the latter. Mahurangi Action's involvement, it has to be said, is probable. In respect to the 2016 management plan variation:
170 submissions (44%) were submitted as 'proformas' on behalf of Mahurangi Action, of these 131 sent in long-form proformas being a duplicate of the Council's questionnaire with two additional questions relating to support for the Mahurangi Coastal Trail and an additional section for the Te Araroa walkway.
A Waiwera to Waipū Coastal Path would be entirely complimentary to Te Araroa, the national walkway. In particular, the Mahurangi Coastal Trail would provide Aucklanders ready access to the first non-urban section of the national walkway, north of their metropolis. At present, most Te Araroa walkers are obliged to struggle along the miserable shoulder of State Highway 17, between Pūhoi and Ōrewa. Relatively few kayak the Pūhoi to Wenderholm section, due to pecuniary or tidal impediment, or both. But rather than take business away from the Pūhoi canoe hire business, the Mahurangi Coastal Trail aside from being the entrée par excellence to Te Araroa, would fuel a kayak-one-direction-walk-the-other, Wenderholm–Pūhoi round trip…

This article is a work in progress, needing at least one more good image, and many more links; please bear with…

Disclosure The author of this article is the secretary of both Mahurangi Action Incorporated and the Mahurangi Coastal Trail Trust. The account published here, however, is that of the editorially independent, independently funded Mahurangi Magazine.


Put Te Muri Crossing high tea in your own calendar

 
Order tickets to J Barry Ferguson Fund botanical art & New Zealand book exhibition now